GEORGETOWN, Guyana, CMC – A superb innings of 98 by Sunil Ambris piloted Windward Islands to a shock 58-run victory over defending champs Trinidad and Tobago in the third round of the WICB Under-19 One-Day Tournament yesterday.
Ambris, a right-hander with from St Vincent, excited the crowd with a number of breathtaking shots as Windwards posted a challenging 222 for nine off 50 overs on a good batting strip at Bourda. The Windwards bowlers then went to work and bowled out T&T for 164 off 47 overs to win easily. Terron Simon with his flat, fast off-spin strangled the batsmen with four for 25 off eight overs.T&T were at one stage 99 for two but slipped to 115 for six in mid innings. From there, they moved to 134 for seven, but then lost three more wickets for one run in 10 balls and were condemned to defeat.
In the first half of the match it was the Ambris show and he put the bowlers to the sword, blasting eight fours and four sixes off just 108 balls in 90 minutes of entertainment. In the earlier matches he kept wicket but for this clash he gave up the gloves to Hollis Blair and was allowed to play with freedom.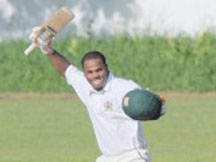 It was a vital match-winning knock and he got excellent support from tail-ender Bronte Bess, who again stood up for the team when it mattered most. Bess made 17 not out from 46 balls with just a single boundary.
He helped Ambris take the score from 134 for seven in the 34th over to 205 – an eighth wicket stand of 71 in 12 overs. The innings had a final flourish when last man Shaquille Browne blasted a big six to bolster the score.
The victory lifted gave the Windwards some vitals points and lifted them back into contention for the limited-overs title. For T&T it was an unexpected
Scoreboard
WINDWARDS
J Robinson c and b Sooklal                          0
D Thomas c Maraj b Mohammed            26
*K Hodge lbw b Davis                                  21
J James b Mohammed                                11
S Ambris c Lara b Davis                             98
+H Blair c wkp Katwaroo b Ali                  4
L Edward b Ali                                                 2
R Jordan b Davis                                            9
B Bess not out                                               17
T Simon lbw b Hosein                                 6
S Browne not out                                          8
Extras (b9, lb4, w6, nb1)                        20
TOTAL (9 wkts, 50 overs)                     222
Fall of wickets: 1-27, 2-30, 3-51, 4-81, 5-113, 6-115, 7-134, 8-205, 9-211
Bowling: Sooklal 5-1-13-1, Maraj 2-0-24-0, Mohammed 10-1-35-2, Davis 10-1-33-3, Ali 10-0-45-2, Lett 3-1-14-0, Hosein 10-1-45-1
TRINIDAD & TOBAGO
C Herrera c wkp Blair b Browne                 18
K Joseph c Bess b Edward                            38
E Lett lbw b Hodge                                          14
A Hosein b Simon                                            21
S Lara b Simon                                                    6
*+S Katwaroo c wkp Blair b Simon            0
D Davis run out (Browne)                            14
I Mohammed lbw b Edward                         9
R Maraj c and b Simon                                   0
S Sooklal b Bess                                               19
J Ali not out                                                       7
Extras (lb3, w14, nb1)                                  18
TOTAL (all out, 47 overs)                         164
Fall of wickets: 1-33, 2-78, 3-99, 4-110, 5-110, 6-115, 7-134, 8-135, 9-135, 10-164.
Bowling: Jordan 5-0-22-0, Browne 6-3-22-1, Bess 8-0-30-1, Hodge 10-1-26-1, Edward 10-0-36-2, Simon 8-0-25-4.
Result: Windwards won by 58 runs.
Toss: T&T
Umpires: V Smith, S Crawford.
Around the Web