LONDON, (Reuters) – England overcame the loss of the  afternoon session to rain yesterday to put India on the rack  again and set themselves up for a series whitewash on the third  day of the fourth and final test at the Oval.
At the close of play India were reeling at 103 for five in  reply to England's 591 for six declared with Rahul Dravid, the  only one of their celebrated batsmen to live up to his  reputation this series, unbeaten on 57.
Off-spinner Graeme Swann, who has endured a unproductive  series so far, had taken three for 27 from 10 overs when play  finally ended on a sun-bathed evening.
During the morning session, Ian Bell completed his first  test double century and overtook team mate Alastair Cook at the  top of the year's test runs' table.
Bell, who resumed on 181, brought up his 200 with his 20th  boundary, a deft glance to leg off Shanthakumaran Sreesanth. His  previous best was 199 against South Africa at Lord's three years  ago.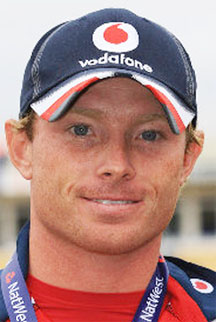 He was finally lbw to Suresh Raina after more than eight  hours at the crease with 23 fours and successive sixes off  leg-spinner Amit Mishra. Bell has now compiled 950 runs this  year with five centuries at an average of 118.75.
Ravi Bopara helped Bell add 61 for the sixth wicket and at  the declaration he was unbeaten on 44.
Bopara, who has replaced the injured Jonathan Trott for the  final two tests of the English summer, failed in his only  innings at Edgbaston where England went 3-0 up in the series and  took over from India as the world's top ranked side.
Nightwatchman James Anderson was the first batsman to depart  yesterday, caught for 13 at second slip by Vangipurappu Laxman  off Sreesanth.
Sreesanth followed up in his next over with the wicket of  Eoin Morgan for one on the day he was named as the England  captain for a one-day match against his native Ireland. Morgan  was caught behind by Mahendra Singh Dhoni.
RECORD   PARTNERSHIP
Bell was again in exquisite touch, playing a glorious  on-drive for four before he departed after missing a sweep  against Raina's occasional off-spin.
Virender Sehwag, who was dismissed first ball in both  innings at Edgbaston after returning from injury, slashed  successive boundaries off Anderson's first over but was then  palpably lbw to the final delivery.
Laxman did not linger, scoring only two before edging Stuart  Broad to Matt Prior behind the stumps.
Sachin Tendulkar was hit on the helmet before he had scored,  hit again on his arm and dropped by Tim Bresnan on 14, a  difficult caught and bowled opportunity, after getting his  customary standing ovation when he came to the crease.
He appeared to be settling down nicely in pursuit of his  elusive 100th international century when he drove Swann wristily  to the point boundary.
But an attempted sweep off the next ball  went from his glove to his shoulder and lobbed up behind the  stumps where Anderson ran back to accept an easy catch.
Tendulkar and Dravid added 55 for the third wicket to  overtake West Indies' openers Gordon Greenidge and Desmond  Haynes as the world's most prolific partnership. They have  scored 6,520 runs between them since coming together for the  first time in 1996.
Raina lingered for 42 minutes without getting off the mark  when he was smartly stumped by Matt Prior. Swann turned the ball  sharply past the left-hander and after several replays the third  umpire Steve Davis decided no part of the batsman's foot had  been behind the line when Prior lifted the bails.
Nightwatchman Ishant Sharma lasted nine balls before he  became Swann's third victim, pushing a simple catch to Cook at  short-leg.
Dravid was again pressed into the opening batsman's role  after Gautam Gambhir sustained a mild concussion when his head  hit the ground in an unsuccessful attempt to catch Kevin  Pietersen on Friday. An Indian team statement said he had  undergone a medical examination on Saturday after complaining  that he still felt unwell.
Scoreboard
England first innings (overnight 457-3)     
A. Strauss c MS Dhoni b Sreesanth                                        40
A. Cook c Sehwag b Sharma                                                      34
I. Bell lbw b Raina                                                                      235
K. Pietersen c & b Raina                                                          175
J. Anderson c Laxman b Sreesanth                                       13
E. Morgan c  Dhoni b Sreesanth                                                1
R. Bopara not out                                                                         44
M. Prior not out                                                                            18
Extras (b 6 lb 8 w 7 nb 10)                                                        31
Total (for six wickets declared; 153 overs)                        591   
Fall of wickets: 1-75 2-97 3-447 4-480 5-487 6-548
Did not bat: T. Bresnan, S. Broad, G. Swann
Bowling: R. Singh 34-7-118-0 (1nb, 1w), I. Sharma 31-7-97-1  (1nb, 1w), S. Sreesanth 29-2-123-3 (4nb), S. Raina 19-2-58-2,  Mishra 38-3-170-0 (4nb, 1w), Tendulkar 2-0-11-0
India innings    
V. Sehwag lbw b Anderson                                                      8
R. Dravid not out                                                                      57
VVS Laxman c Prior b Broad                                                2
S. Tendulkar c Anderson b Swann                                   23
S. Raina st Prior b Swann                                                       0
Ishant Sharma c Cook b Swann                                           1
MS Dhoni not out                                                                     5
Extras (lb-5, w-2)                                                                    7
Total (for five wickets, 33 overs)                                   103
Fall of wickets: 1-8 2-13 3-68 4-93 5-95
Still to bat: Gautam Gambhir, Amit Mishra, S Sreesanth, RP  Singh.
Bowling (to date): Anderson 5-1-21-1, Broad 10-1-22-1,  Bresnan 7-0-25-0 (1w), Swann 10-3-27-3, Pietersen 1-0-3-0.
Around the Web