Stefan Corlette won the Under-18 male category at a specially arranged Goodwill table tennis tournament involving local players and players from Trinidad and Tobago Monday at the Cliff Anderson Sports Hall.
The tournament which was organized by Sydney Christophe was held at the conclusion of a two day coaching stint held by the former Caribbean men's singles champion and recent inductee into the Caribbean table tennis Hall of Fame.
Also winning on the male side were Kyle Edghill who won the Under-15 division while Elishaba Johnson won the Under-13 category and Jeremy Singh the Under 10 category.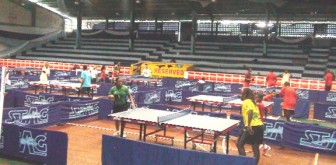 In the Under-13 final Johnson defeated Singh  with Kyle Edghill and Ronaldo Johnson of Trinidad finishing in  joint third position.
Chelsea Edghill defeated all of her opponents in the girls 15-and-under category while the !3 years and under category was won by Priscilla Greaves.
Tobago walked away with the 10-years-and-under girls category along with the Novice category through Jasher DeGannes and Damika Douglas  respectively.
The two-day training camp was held last Saturday and Sunday for mini cadet, cadet and junior players from Guyana and the camp was conducted by International Table Tennis Federation (ITTF) Course Instructor, USA-based Guyanese Christophe, national coach Linden Johnson and Tobago coach Dexter Abbott.
According to Abbott, after being in Guyana for the camp and Goodwill Tournament, most of the Tobago players were excited to participate and he extended an invitation to GTTA to send a team to Tobago early next year.
He also expressed special thanks to the GTTA and National Sports Commission (NSC) for its kindness while in Guyana.
Around the Web