DAEGU, South Korea,  (Reuters) – Asafa Powell has  rarely, if ever, upstaged Usain Bolt but he managed it yesterday when his withdrawal from the world championships  dominated a farcical Jamaican team press conference.  
Bolt was the main attraction at the event which drew more  than 500 media to a suburban "cultural centre" and they waited  patiently as Jamaican officials opined in front of a banner  proclaiming the Caribbean island "The fastest country in the  world".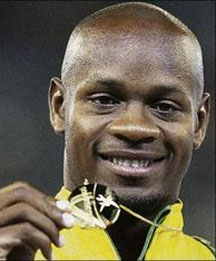 Questions to the other Jamaican athletes were few and  perfunctory as reporters kept their powder dry for double world  and Olympic champion Bolt's appearance on the stage.   
Then, casually, sprinter Michael Frater let slip the news  about Powell's withdrawal.   
"I didn't come here expecting to run the 100 metres but  unfortunately Asafa couldn't make it," he said.   
It took a while for the significance of his comment to sink  in but once it did, confusion briefly reigned in the hall.   
Frater was asked to confirm his comment, which he did with a  cautious nod, before the moderator intervened to prevent further  questions on the subject.   
Jamaican team leader Grace Jackson was then pressed about  the former 100 metres world record holder but she could only  manage an extended no comment.  
 
So it was a slightly underwhelming moment when the world's  most famous track and field athlete finally took the stage to  discuss his defence of his 100 and 200 metres. "This is the first I'm hearing of it," Bolt said of Powell,  who had been expected to be his main rival in the shorter of the  sprints.   
Bolt was thought to be vulnerable in the 100m after back  injuries ended his 2010 season and his form has been mediocre  this year by his own exceptional standards.   
The 25-year-old conceded he was not at his very best but  declared himself ready to defend his titles even if he thought  he would not threaten his 100m world record of 9.58 seconds.   
"This for me is a comeback season," he said. "I need to get  back to tip-top condition, I don't think I'm in 9.5 shape at the  moment.   
"A lot of guys are running fast, I'm not in tip-top shape  but I'm focused and I'm ready."   
After his spectacular double world record triumphs at the  Beijing Olympics and last world championships in Berlin two  years ago, most would say Bolt's place in the pantheon of  sprinting greats is already assured.    
Bolt himself, though, is not so certain.             
"I've said throughout the season that this world  championships is going to be the first step in me becoming a  legend," he added.   
"You just need to take the first step before you take the  second step, which would be the Olympics.
  
"A lot of people have said I'm a legend but I don't look at  it like that at the moment but in two years, I'm working on it."         
Powell's withdrawal from the 100m, later confirmed by his  agent, should make Bolt's championships a little easier but the  Jamaican was certain he would be going home with both titles in  any case.    
"I want to be a legend," he said. "I'm going to get it  done."
Around the Web