DAEGU, South Korea, CMC – British sprinter Christian Malcolm has dared to dream and believes he can cut down the seemingly unstoppable Jamaican Usain Bolt.
The two are likely to meet during the 200 metres in the World Championships which open here today, with Malcolm contending that Bolt now appeared more vulnerable than ever before.
"Definitely I can beat him. Why not? We are all human," said Malcolm.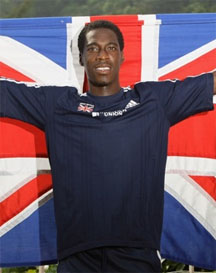 "Usain had a fantastic 2008 and 2009 but his last two seasons haven't been very good, whether it's because of injury or what not.
"For me I've always believed on my day, as long as I'm injury free, that I'm one of the best sprinters in the world and I still believe that."
Malcolm's resume will not exactly cause Bolt sleepless nights. He enters the World Championships without a major title to his name and at 32, is in the twilight of his career.
He has also never gone below 10 seconds in the 100 metres and never broken the 20-second barrier in the 200 metres.
However, the British team captain said he was hoping to exploit perceived chinks in Bolt's armour.
"I think he's more vulnerable over 100m than the 200m at the moment and you have to capitalise on that," said Malcolm.
"I know he must have doubts about himself, especially in the 100 because he hasn't gone particularly well in the Diamond League. If he has you have to try and play on that."
The World Championships are set to run until September 4.
Around the Web