Although rain did  hamper the proceedings somewhat in  the Nigel's Supermarket Junior Tennis Tournament, Toshan Jamuna, Kishan Reece and Shavani Persaud emerged as winners in the under-10 and
under-12 boys and girls' categories in the tournament when it was held at the National Gymnasium last Thursday.
According to a press release the under-10 and
under-12 matches had to be switched to the National Gymnasium after the first day was lost due to  inclement weather. However, nine-year-old left hander Jamuna of Diamond won the boys under-10 category after defeating all his opponents in the round robin competition while Nkozi Beaton and Ray Gorakh were second and third respectively.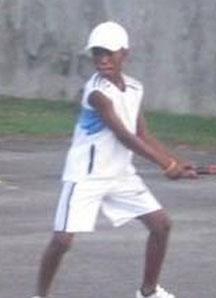 Jamuna defeated Beaton 6-5, Damian Braam 6-5 and Gorakh 6-4 to remain unbeaten in the category. The budding talent only started playing the sport two weeks ago and showed remarkable consistency  with his shots when he captured the title, the release noted.
Second placed  Beaton defeated Braam 6-5 and Gorakh 6-4 while Gorakh defeated Braam 6-4 to take third place.
The boys under-12 category saw Kishan Reece winning  in convincing fashion as he played flawlessly to take  the title.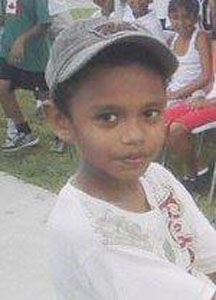 In the round robin action the flashy Reece defeated runner-up Anthony Grant 15-3, Hemraj Resaul 15-13 and Mark Mc Donald 15-6.  Grant then defeated Resaul 15-12 and Mc Donald 15-13 while Resaul's lone win was over Mc Donald with a 15-7 victory. On the distaff side in the girls under-12 category, Persaud played unopposed as she defeated eight-year- old Kaylca Frazer 15-13, Ashmeta Toolsie 15-7 and Tiffany Grant 15-2.
Frazer who came in second defeated Toolsie 15-7 and Grant 15-14 while Grant won against Toolsie 15-6 for the third spot.
Meanwhile over at the Pegasus Courts only one match was completed before the rain intervened. The under-14 boys saw Deonauth Mohabeer defeating Dominic Braam 4-0 4-2.
The under-14 and under-18 matches will continue at the Pegasus and Non Pariel courts today from 09:00hrs as the juniors battle in a round robin competition before advancing to the knockout stages.
Around the Web