One of the first signs that the potential formation of the Interim Management Committee (IMC) by the  government to temporary govern cricket in Guyana could further affect cricketers throughout the country, occurred on Friday, when a faction of Berbice players  called up for a Twenty20 Trial match ahead of upcoming practice games versus Trinidad who will be  representing the region in the Champions League tournament in India later this month, were told by Berbice Cricket Board (BCB) officials not to turn up.
When contacted yesterday BCB President Keith Foster said that the board was not officially notified about the trial match.
"We were not officially informed; we ended up hearing from players as late as Thursday evening about this trial game.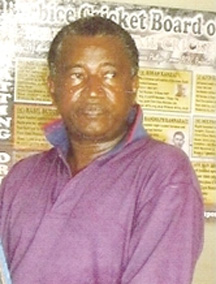 "What happened was that the players were contacted individually which I found very inappropriate since usually someone from the Guyana Cricket Board (BCB) usually calls us to inform us about the release of Berbice players before this.
"A case in point is that we were called today with regards to the release of the female cricketers in the county to contest those upcoming Twenty20 matches against Trinidad Under-19 girls next week and everything was fine.
"The same should have been done for the senior team, but I find this rather convenient since the selectors know the senior Berbice players personally so they went about talking to them, they don't know the young girls so they had to call us," Foster recounted.
He questioned who was really responsible for the running of Guyana's cricket at this stage after, in his view, the government had set up the IMC to temporary run cricket in the country and he said that he was unaware that the "GCB" still existed.
Selectors Rayon Griffith and Adrian Amsterdam also were contacted and they both stressed that political bickering really needs to stay out of cricket, since all they are concerned about is picking the best available Guyana side.
All this leads to interesting meeting tomorrow at 4:30 pm with BCB officials and the players that participated in the trial match.
Hopefully there will be no disciplinary action towards the players since any action that would possibly restrict the players from playing for Guyana would be detrimental to Guyana's cricket.
During this week the IMC members are expected to congregate for its second meeting in an effort to arrive at a decision on its role in the daily operations as the nation's governing body for cricket.
Around the Web