Two officials of the Guyana Amateur Powerlifting Federation (GAPF) are appealing to corporate Guyana for sponsorship for two of Guyana's most decorated senior powerlifters Winston 'Little Master'Stoby and 'Big John' Edwards.
The pair is scheduled to participate in the upcoming International Powerlifting Federation, (IPF) World Masters Powerlifting Championships in St. Catherine, Canada from September 26 to October 4, 2011.
Peter Green and Edwards president and vice president respectively of the GAPF said they were keen on having the corporate community and individuals get behind the duo in their attempts to make history at the championships.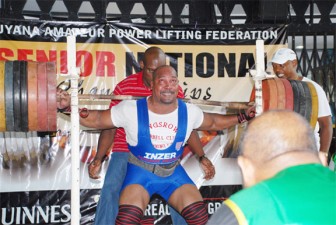 According to Edwards, though sponsorship has been "trickling in" he feels more can be done to help the pair alleviate their expenses.
Accommodation was cited as a major obstacle.
Edwards said that himself and Stoby are scheduled to leave one day before the competition because of limited funds.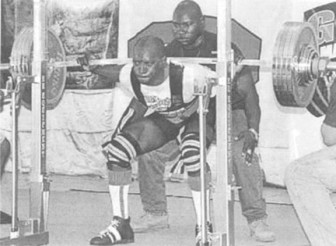 The late departure will be a disadvantage to  them as they will be unable to get their physiques acclimatized to the conditions like  their other competitors.
With sponsorship and an earlier departure that can all change.
Green said that the GAPF will hold fund raising activities to help the lifters as much as possible with a Bar-b-que  and Lime to be held on September 17 at the Trans America building at Church and Cummings streets.
Tickets are currently on sale and can be purchased from any member of the GAPF, he disclosed.
Edwards will be competing in the tougher of the two categories – the 120kg/265lb M1 weight class. The undefeated local Open as well as Masters heavyweight champion, has a remarkable international record of being undefeated at the Caribbean, Regional and Pan American levels since 2008.
For Stoby, the wheel will be turning full circle. In 1996, lifting at the IPF Pan American Championships in Hampton, Canada, Stoby captured Guyana's first gold medal in the individual dead lift as well as setting the then record of 600lbs.
The 2010 Caribbean and CAC Open and NAPF Regional gold medalist in the 74kg/163lb weight class, is currently ranked number one in the championships with a total of 655kgs/1,442lbs with his nearest challenger being listed at 620kgs/1,367lbs. The 'Little Master' recorded a total of 663kgs/1,462lbs at the recent local Masters championships.
Both lifters have been gradually increasing their totals and are expected to peak for the championships.
The two powerlifters are seemingly poised to join fellow Guyanese Hugh Ross, the reigning Mr. Universe Masters Champion, as World Champions in their own right!
Edwards can be contacted on telephone number 623-6550 while Stoby's number is 624-8710.
Around the Web