Twelve members of the Black Hawk Martial Arts Management Network are now eligible to compete in the World Championships, which will be held in Canada from November 16 – 17 following their participation at the Pan Caribbean Championships in Trinidad.
However, Senior instructor Garfield Newton said his club's participation or the strength of its delegation to Canada is dependent on their ability to realize the funds.
According to him, it would cost close to US$1400 per person.
That, he said does not include the cost of acquiring the visas.
Newton said Black Hawk members secured their places at the World Championships after their performances at the recent Pan Caribbean Championships held in Trinidad on August 19 – 20.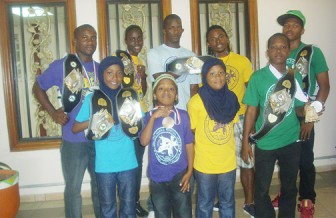 The team returned with 12 championship belts which included three Observation Black Belts and five Hall of fame Black belts.
Latteefah Hopkinson in the age 7-9 category, Darnel Maison 10 – 12, Jamal Morris 13 – 15 and Corwin D'Anjon, intermediate 18 – 34 category were the Open hand Kata title winners.
The Kumite title winners were Latteefah Hopkinson 7- 9 category, Denoila Bristol 13 – 17, Damion Marks and Bertram Williams in the 18 – 34 category, Garfield Newton 18 – 34  Middle weight black belt.
Other winners were Weapons Kata – Corwin D'Anjon – 18-34 category, Grappling – Jamal Morris  –  13-15 category and Kung Fu Kata – Roland Kudoxie 18-34 belt.
In additional to the 12 titles the team captured five silver and two bronze medals.
Guyana placed a distant second behind power houses Barbados and Trinidad. The two captured 45 titles apiece.
Newton said he, along with Bertram Williams and Corwin D'Anjon, successfully defended their Kumite, Weapons and Open hand Kata titles.
He also stated that half of the competitors were there for the first time.
"Their performance was outstanding given that it was their first time competing on the international scene and coming up against some of the best fighters."
Fourteen members of the Black Hawk Martial Arts Club travelled to the twin-island republic for the tournament.
That number, Newton said, was a cut from the original 30 members that were selected. Those who travelled were either part-sponsored or self-sponsored.
Around the Web