GRENVILLE, Grenada,  CMC – A purposeful, unbeaten 32 from Stacy-Ann King formalised a four-wicket victory for West Indies Women over Pakistan Women in a low-scoring second Twenty20 International on Tuesday.
King led the way for the Windies Women, as they successfully chased a paltry 66 for victory, winning with seven balls remaining at Progress Park in this rural community.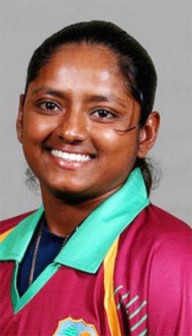 Pakistan Women, choosing to bat, had been dismissed for 65 in 19.5 overs – no batter reached 20.
West Indies Women's off–spinner 9 continued to bamboozle the Pakistanis, collecting four wickets for nine runs from her allotment of four overs.
The result meant that the West Indies Women take an unbeatable 2-0 lead in the four-match series.
Pearl Etienne gave West Indies Women a bright start, removing openers Javeria Khan for two and Nida Dar for six, leaving Pakistan Women 10 for two.
Mohammed put West Indies in firm control however, when she worked her way through the Pakistani middle order, removing Qanita Jalil for 19, Nain Abidi for 10, captain Sana Mir for six, and Asmavia Iqbal for two.
Mohammed sent the Pakistan sliding from 32 for two to 56 for seven, and they never recovered.
Three run outs – Juliana Nero for one, Deandra Dottin for 10, and Shermaine Campbelle for two – almost derailed West Indies.
But King was the glue that kept the innings together, and carried the home team safely to safe harbour.
The teams move on to Guyana, where the final two matches will be contested on Saturday and Sunday at the Guyana National Stadium.
Scoreboard
PAKISTAN
Javeria Khan lbw b Etienne                                           2
Nida Dar c and b Etienne                                                6
Marina Iqbal c Dottin b Taylor                                    8
Qanita Jalil st Aguilleira b Mohammed                  19
Nain Abidi c Dottin b Mohammed                           10
Bismah Maroof c Taylor b Campbelle                       0
*Sana Mir c Etienne b Mohammed                             6
Asmavia Iqbal c Dottin b Mohammed                      2
+Rabiya Shah run out                                                      1
Masooma Junaid not out                                               2
Sadia Yousuf c Mohammed b Daley                          2
Extras (b2, w2, nb1)                                                       7
TOTAL (all out, 18.5 overs)                                    65
Fall of wickets: 1-8, 2-10, 3-32, 4-50, 5-51, 6-54, 7-56, 8-60, 9-63, 10-65.
Bowling: Selman 3-0-14-0, Etienne 2-0-9-2, Taylor 3-0-10-1, Daley 2.5-0-11-1, Mohammed 4-1-9-4, Campbelle 4-0-10-1.
WEST INDIES
S Taylor c Nain Abidi b Jalil                                            0
J Nero run out                                                                       1
*+M Aguilleira c Nain Abidi b Sadia Yousuf           11
D Dottin run out                                                                  10
S King not out                                                                      32
S Daley b Nida Dar                                                               0
S Campbelle run out                                                           2
K Knight not out                                                                   1
Extras (lb3, w5, nb1)                                                        9
TOTAL (6 wkts, 18.5 overs)                                     66 
Did not bat: Anisa Mohammed, Shakera Selman, Pearl Etienne.
Fall of wickets: 1-0, 2-3, 3-21, 4-29, 5-29, 6-45.
Bowling: Qanita Jalil 3.5-1-12-1, Masooma Junaid 1-0-6-0, Asmavia Iqbal 3-0-10-0, Sana Mir 4-1-13-0, Sadia Yousuf 3-0-11-1, Nida Dar 4-1-11-1.
Result: West Indies won by four wickets.
Man-of-the-Match: Stacy-Ann King.
Toss: Pakistan.
Umpires: P Nero, C Mack.
Around the Web