LAS VEGAS (Reuters) – Victor Ortiz will enter the ring against Floyd Mayweather Jr tomorrow as the WBC welterweight champion but he will also be a heavy underdog — a tag with which he is entirely comfortable.
The Mexican-American will defend his title against an undefeated five-division world champion and, hardly surprisingly, his challenger has been installed as an odds-on favourite by Las Vegas bookmakers.
"I have nothing to lose, man," Ortiz told reporters at the MGM Grand on Wednesday while preparing for the 12-round bout. "He has everything I want. I don't see myself as champion. I'm still hungry."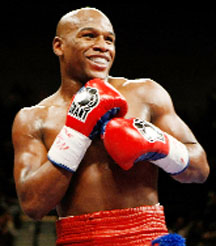 Ortiz, 29-2-2 (22 KOs), took the WBC welterweight title from Andre Berto in April, the climax of a career that had long been tipped to scale great heights but hit a roadblock when he quit in the sixth round against Marcos Maidana in June 2009.
In contrast, the career path of Mayweather (41-0, 25 KOs) has been virtually free of obstacles and he has steadily established himself as one of contemporary boxing's two biggest names — along with Manny Pacquiao of the Philippines.
Mayweather is widely regarded as one of the best defensive fighters of all time, yet Ortiz said he had never been especially impressed by the American's credentials.
"I don't really see a whole lot," the 24-year-old Ortiz added. "He's fought some decent guys, but guys who were on their way up or on their way out.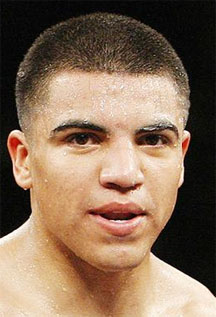 "You can say whatever you want about me, but I've fought some very good guys, in their prime. I've banged with the best."
The left-handed Ortiz is renowned for his punching power and, win or lose, he has knocked down every one of his 33 opponents.
Mayweather is best known for his slick defensive skills but he insisted on Wednesday that he would stand toe-to-toe with his younger opponent.
"I'm going to go in there, I'm going to execute the game plan, I'm going to go in there with class and leave with class," the 34-year-old said during a news conference at the MGM Grand.
"You guys don't have to worry about me back-pedaling. I'm coming straight ahead, so hopefully he's coming straight ahead."
The flamboyant Mayweather, who is renowned for his trash-talking, predicted an early knockout tomorrow.
"He (Ortiz) says the fight won't go the distance, I say the fight won't go the distance and so hopefully it won't go the distance," Mayweather said. "I get hit with a good shot, no problem, I shake it right off. "I'm still coming at you. I'm a good finisher, too. So, when I hurt you, don't grab me, don't hold on at all. I'm going to finish you off."
Unmoved, Ortiz merely smiled in response.
"Mayweather's had his time," he said. "He did his thing for many years. Forty-one (fighters) have tried, 41 have failed. Forty-one of those were not me."
Around the Web