The newly-formed Guyana Cycling Association of North America (GCANA) successfully held a series of races during America's Labor Day weekend last week at the Kissena Park Velodrome in Flushing, Queens, New York.
The association which is now heading into its second year also used the weekend for its Annual General Meeting (AGM) as well as its fund-raising raffle drawing and a social get-together.
The GCANA raffle in honour of amputee national cyclist Walter Grant-Stewart on Labor Day saw Thelma Coy as the lucky first prize winner copping a bicycle while Denise Hemmings (TV) and Larant Petrus (camera) gained the second and third prize respectively.
Meanwhile, President of the GCANA, former national champion of Guyana Neville Hunte, said in a statement yesterday that the association "has followed with interest the outstanding performances of Mr. Grant in the sport of cycling in Guyana and abroad, especially in the road race he won in Anguilla that was posted on YouTube…"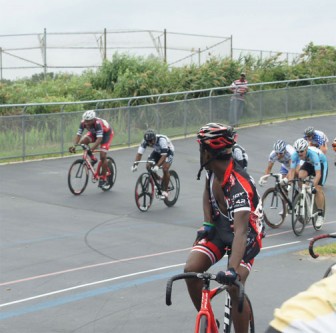 Consequently, the GCANA has decided to make a monetary presentation to Stuart "in recognition of his outstanding achievements."
"He is an inspiration to us all," the statement added.
A representative of the GCANA is expected to be in Georgetown for the Tour of Guyana five-stage cycle road race staring October 6 and a presentation will then be made to Stuart, a former fireman who lost his arm while on active duty a few years ago.
And during the races Labor Day weekend there was a two-lap old timer's event  in honour of former Guyanese sprinter Randolph Tarrant Glasgow.
Victor Rutherford, coordinator of the GCANA and a former Guyana champion, entered the race and broke clear of the pack to ride away with the victory.
There was also another two-lap race in honour of Donald Robinson and Wayne McKenzie emerged the winner. Senior Counsel Robinson, who  passed away some eight years ago, was a president of the cycling federation here.
The 45 years plus race along with the 55 years plus five lap races saw Randy Toussaint taking both events and he finished third in the 20 laps feature event during the weekend.
The association also promoted races in  Prospect Park, Brooklyn  where the Category One and Two race was won by Scott Savory while Gavin Robertson and Paul Choo Wee Nam brought second and third respectively.
In the Category Five race Errol Mclean edged Kenrick Caesar  for the first position while Carl Nelson came in third.
President of the GCANA thanked the competitors for their support of the events while stressing  that his association is willing to help any Guyanese cyclist regardless of their club affiliation.
He also said that he is looking forward to a stronger  relationship with the Guyana Cycling Federation (GCF) in order to develop the sport in his native land.
Around the Web