For those who are cynical, including this card-carrying member, Ron Artest's recent name change to Metta World Peace was an eye roll.
Spare us, Ron baby.
How about just focusing on avoiding fighting with fans in the stands, as you did so notoriously in that game in Detroit in 2004, costing yourself a season-long suspension? Basketball peace first. Then the world.
But let's look at this more closely. Artest's gesture, as wacky as the man making it, comes at a rather interesting time. Maybe Ron/Metta is on to something.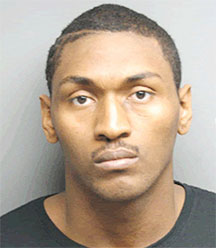 The world of sports, promoted as a theater of triumph, now seems more like an arena of anger. The games seem rougher, the stakes higher. Everybody seems angry at everybody else a lot of the time.
Fans love the players, win or draw. They no longer threaten to kill the ump. They consider doing it. Players, pushed by fans, ego and greed, play meaner and dirtier. You throw a pitch at my guy, I'll throw one at yours. The end justifies the means. Sportsmanship is something from the Old Testament.
You can almost hear Rodney King, asking plaintively at that news conference, "Can't we all just get along?"
The hockey season ends with the Canucks losing in the Stanley Cup finals and fans rioting for five hours in the streets of Vancouver, causing injury and millions of dollars in damage. When one of the foolish young fans is caught in a photo lighting the gas tank of a police car, he tries to 'fess up and apologize the next day, but his family is run out of the city by threats on social media.
The baseball season begins with a Giants fan being beaten, nearly to death, by a couple of men in the Dodgers parking lot, apparently angered that Bryan Stow had the audacity to wear a Giants jersey.
Just Tuesday, the Turkish Soccer League implements a safeguard against further fan misbehavior by hosting a game in Istanbul that allows only women and children under the age of 12 to attend. Admission is free, 41,000 show up and the players, celebrating the absence of hooligans, toss flowers to the new kinder, gentler fans.
The college football season begins with the most pertinent action taking place off the field, where the rest of the Big 12 Conference is angry at Texas for the apparent competitive edge it attempts to gain from its own sports network. Teams are changing conferences like Imelda Marcos changed shoes. Rivalries are disappearing, fans are furious and this story is so dominating that the usual SEC recruiting scandals can't even get to the front page.
The hockey season is about to begin and the biggest name in the sport, a multimillion-dollar difference-maker in the NHL, may return as damaged goods after sitting it out with concussion symptoms most of last season. Sidney Crosby took two big hits, both on the edge of being legal, and may never be the same.
The second week of pro football season features a hit by Falcons player Dunta Robinson that brings a $40,000 fine for its flagrancy. You can count on more.
Derek Jeter collects his milestone 3,000th hit in midsummer, and does it with a homer on a five-for-five day. The Angels public relations people, who seek to commemorate it and honor him, discuss having a ceremony in front of the Angels crowd when the Yankees come to town. When word gets out about that possibility, enough angry Angels fans, seeing Jeter as an enemy rather than a baseball legend, make enough noise to quash the public presentation.
Millions pay millions to watch the Floyd Mayweather Jr.-Victor Ortiz fight. It is promoted as something building toward an angry ending, and angry it is. Ortiz illegally head-butts Mayweather in the fourth round and Mayweather quickly retaliates by ending the fight with a legal sucker punch against a confused, hands-at-his-sides Ortiz. Hours after the fight, fans of each boxer mill around a hotel lobby and hurl threats and expletives at each other.
In her second straight U.S. Open tennis tournament, Serena Williams exits with an venomous threat against a court official.
So there you have it, a sampling from the angry wide, wide world of sports, in an era of look-at-me pounding on the chest and celebratory dances by football players who have just made a tackle after a six-yard gain.
Enter our contrarian, Metta World Peace, of all people.
Who would have thought … ?
The same person who once administered a flagrant elbow to the head of
Around the Web