Majestic won its first feature event on Sunday  when the Ryan Crawford Memorial Turf Club and Sports Facilities (RCMTC&SF) in collaboration with Ansa Mc AL Guyana Limited held the Keep Fit horse race at Alness, Corentyne, Berbice.
Riding out of the Nankoo Sheriff Racing Stables, Majestic, imported from Jamaica, in its fourth race and ridden by Jamaican Brian Blake, ended the race strongly to edge stable mate Dubai Duchess to take the feature E1 event and the $300,000 top prize, along with the Ansa Mc Al trophy.
Delmur Gold and Face the Music were third and fourth respectively.
Also on winner's row was Work Force that had a comfortable win in the Three-year-old Guyana and West Indies bred event for horses classified G1 and Lower. It took away $250,000 and the Denys Benjamin trophy, holding off a late challenge from Domasaca Dream and Bio Fuel finishing second and third respectively.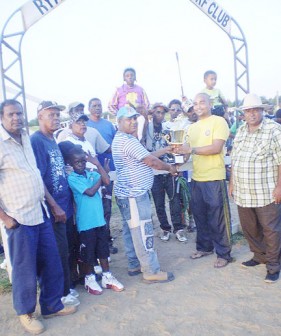 Jamaican jockey Andron Findley followed his compatriot's earlier triumph to lead Prado's Gold of the Asraf Alli Stable to a close victory over Momzelle and Miracle Run, both from the Colin Elcock Stable in the competitive G Class race.
The win was worth $200,000, compliments of Jumbo Jet, along with the Dr. Dwight Walrond trophy. Zelona rounded out the money in fourth place.
Dream Girl, mounted by the experienced Yap Drepaul, made it a reality when she defeated all comers in the H1 and Lower race to cop $170,000 and the Francis (Chico) Chester trophy ahead of Infinity and Funny Side. The Habibulla Stables scored a second victory with Royal Salute, also ridden by Drepaul, taking the I-1 race that was worth $140,000 and the Hookumchand trophy from Infinity, Cash Connection and Funny Side.
Black Water of the Deonauth Stables was unstoppable in the J and K Class, beating out Sport in Time for the South Lands Incorporated and Dr. Zinzie trophy.
It's my Time also was a winner on the day with a gate to pole triumph in the L Class, compliments of Omeshwar Misir, Dax Construction Services and the Zakaria El Dib trophy.
Lucky Gamble, Soldier Boy and Simba finished in descending order.
Jockey Prem Chandra edged Drepaul for the champion jockey award while Fazal Habibulla was adjudged champion trainer. The Habibulla and Asrafalli Stables shared the champion stable awards, receiving trophies and plaques from Ramesh Sunich's establishment, Trophy Stall, Bourda Market, and the RCMTCSF.
At the presentation ceremony, Coordinator Colin Elcock said that the meet was a success and it was an indication that horse racing could be organized at different levels. According to a release, he noted  that the event does not have to be lavish and elaborate.
Elcock elaborated: "Different meets can be organized, sprint meets, handicaps, low profile."
Meanwhile, it was learnt that champion horse Champtress died recently.
The organisers also took the opportunity to thank Attorney-at-law R.N. Poonai and businessman Bobby Vaughn for their help.
Around the Web