VISAKHAPATNAM, India, CMC – A solid all-round performance from Justin Greaves failed to spark the West Indies Under-19s, and Sri Lanka Under-19s clinched a tense, two-wicket victory in the Quadrangular Youth One-day International Series on yesterday.
Playing at the Reddy Stadium, Greaves stroked a valuable 33 and Kaveem Hodge hit the top score of 50, as the Young Windies were dismissed for 146 in 47.1 overs in their opening match of the series, a warm-up for next year's Youth World Cup in Australia.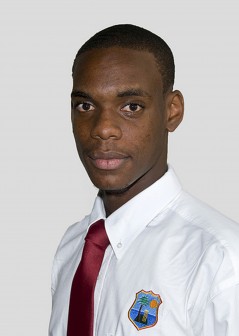 Greaves followed up, grabbing four wickets for 26 runs from 10 overs bowling his uncomplicated medium-pace, but the Sri Lankans replied with 147 for eight.
The 17-year-old Greaves was in the thick of things early, holding the catch that dismissed Sri Lanka U19's wicketkeeper/batsman Niroshan Dickwella for two in the second over off Ronsford Beaton.
Greaves put the skids on the Sri Lankans, when he had Duleeka Thissakuttige caught behind for one and opener Shehan Fernando caught in the field for five, leaving the Asian side wobbling on 23 for three.
He later had Pulina Tharanga caught by YWI captain Kraigg Brathwaite for two in the 16th over and Sanitha de Mel caught in the deep for 12 in the 23rd over to leave the Sri Lankans tottering on 71 for eight.
But the Young Windies failed to wrap things up with an unbroken, ninth-wicket stand of 76 between Lahiru Madushanka, whose 42 not out was the top score, and Tharinda
Kaushal, not out on 30, sweeping the Sri Lankans to a remarkable victory with 22 balls remaining.
Ambidextrous all-rounder Kyle Mayers finished with two for 24 from his allotted 10 overs, and Beaton grabbed two for 39 from seven overs.
The Young Windies also hurt their cause by delivering a whopping 22 wides with Beaton accounting for 11 and Greaves credited with eight.
Earlier, the Young Windies' batting also failed, and they sunk to 42 for five in the 16th over before Hodge and Greaves brought some respectability to the total.
Hodge hit four boundaries from 86 balls and Greaves hit just two fours from 74 balls in a crucial stand of 79 for the sixth wicket before they and wicketkeeper/batsman Stephen Katwaroo all fell without the addition of a run to leave the Caribbean side 121 for eight in the 39th over.
YWI's batting was undermined by de Mel with an impressive four for 14 from 9.1 overs, Madushanka with two for 26 from nine overs, and Gaurav Deva with two for 31 from eight overs.
The Young Windies will be looking to rebound, when they renew rivalry with Australia Under-19s in their second match tomorrow at the Port Trust Diamond Jubilee Stadium also in this city.
YWI toppled Young Australia in a three-match series earlier this year in Dubai, and will seek a victory to keep them in line for a place in the Final.
The Aussies also lost their opening match, when hosts India Under-19s humiliated them by 10 wickets in a record chase at the Port Trust Diamond Jubilee Stadium.
Australia Under-19s, choosing to bat, were dismissed for 163 in 41.1 overs, wicketkeeper/batsman James Peirson led the way with 51, as their batting was undermined by off-spinner Baba Aparajith with five for 38 in 8.1 overs.
Manan Vohra smashed 15 fours and two sixes in an unbeaten 79 from 35 balls, and fellow opener Unmukt Chand struck 11 fours and three sixes in 72 not out from 40 balls, ruthlessly manhandling the Aussies bowlers to take the Indians to victory in the 12th over.
Young India face Young Sri Lanka in their second match, tomorrow also, at the Reddy Stadium.
Scoreboard
WEST INDIES UNDER-19s (maximum 50 overs)
*K. Brathwaitye c wkpr Dickwella b de Mel                     10
J. Campbell c Madushanka b Deva                                        3
S. Ambris c Kaushal b Deva                                                      1
A. Alleyne c Madushanka b de Mel                                       0
K. Hodge c *Jayasinghe b Madushanka                           50
K. Mayers c wkpr Dickwella b de Mel                                14
J. Greaves c wkpr Dickwella b de Mel                               33
+S. Katwaroo c Aponso b Madushanka                             0
D. Davis run out (Aponso/+Dickwella)                             8
A. Khan run out (Kaushal/+Dickwella)                             9
R. Beaton not out                                                                       6
Extras (lb4, w7, nb1)                                                               12
TOTAL (all out, 47.1 overs)                                            146
Fall of wickets: 1-16, 2-18, 3-18, 4-20, 5-42, 6-121, 7-121, 8-121, 9-138
Bowling: de Mel 9.1-1-14-4 (w4); Deva 8-2-31-2; Madushanka 9-1-26-2 (w1); Aponso 9-0-22-0; Kaushal 8-0-33-0 (nb1, w1); Tharanga 4-0-16-0 (w1)
SRI LANKA UNDER-19s (target: 147 from 50 overs)
+N. Dickwella c Greaves b Beaton                           2
S. Fernando c Khan b Graves                                     5
D. Thissakuttige c wkpr Katwaroo b Greaves      1
L. Abeyratne c Campbell b Beaton                       10
*A. Jayasinghe b Mayers                                          13
A. Aponso b Mayers                                                     5
P. Tharanga c *Brathwaite b Greaves                    2
L. Madushanka not out                                             42
S. de Mel c Davis b Greaves                                     12
T. Kaushal not out                                                       30
Extras (lb3, w22)                                                          25
TOTAL (8 wkts, 46.2 overs)                                 147
G. Deva did not bat
Fall of wickets: 1-8, 2-11, 3-23, 4-34, 5-49, 6-52, 7-56, 8-71
Bowling: Greaves 10-1-26-4 (w8); Beaton 7-0-39-2 (w11); Mayers 10-3-24-2 (w1); Davis 10-3-20-0 (w2); Khan 4.2-0-16-0; Brathwaite 3-0-13-0; Campbell 2-0-6-0
Result: Sri Lanka Under-19s won by two wickets (22 balls remaining)
Points: Sri Lanka Under-19s 4, West Indies Under-19s 0
Toss: West Indies Under-19s
Umpires: N. Patwardhan, K. Srinath
Matchreferee: M. Nayyar
Around the Web