Vivian Harris has experienced every dip and climb in  the roller-coaster life of pugilists  in the world of professional boxing.
There were wins  and losses, success and failures, and while Harris has enjoyed champagne victory celebrations, he has also swallowed the bitter pill of disappointment. Rebounding to the top of the game  is one challenge he is yet to hurdle, though.
And  presently the fighter is digging deep into his reserves to rise from  the biggest slump of his career, that resulted in him losing as many fights as  he won,  after punching his way to the biggest prize in the sport – winning a world title.
Since the Guyanese boxer/fighter knocked out Cuban  Diosbelys Hurtado to claim  this country's second  world title of all time, in 2002, Harris has flattered to deceive.  He lost his  WBA junior  welterweight belt, in his third defence, which  led to losses  with  performances that were a far cry from the,  swift,  crisp punching machine he was known to be.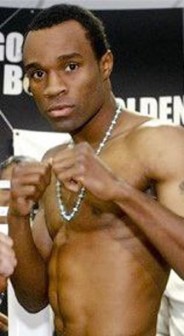 Defeats to Junior Witter, the WBO junior welterweight champion of England and the now well known Victor Ortiz, among others, put a dent in Harris' career following a shocking kayo loss to Carlos Maussa that saw his WBA belt falling into the hands of the little recognized Colombian.
It was a dark period for the youngest fighter of the Harris clan that also produced one -time middleweight world rater Wayne Harris.
Having attracted the services of world renowned trainers, the likes of Emanuel Steward, owner of the  America's most accomplished Kronk Gym in Detroit, Lou Duva, head of Main Events Productions and also the management of Oscar De la Hoya's Golden Boy Promotions, Vivian  Harris gradually lost the winning edge,  which reached a high during that memorable night in Houston, Texas when his famous straight right punch put Hurtado to sleep.
A once proud record at the time has now dipped to 30 wins with seven losses.
A few years down the road though, Harris feels he has finally found the answer to his problems .
" It was the weight, man, I am a tall guy,  fighting at junior welterweight and my body could not hold that weight. It was very hard to drop down to 140 lbs," Harris explained recently from his home in Orlando, Florida.
He added that in almost every instance he fought after losing the title,, he came close to  starving himself to get down to the junior welterweight weight limit  which left him listless and weak when he took to the ring.
"But now all that has changed, I have moved up to welterweight and feel much stronger now, because I can eat to get my energy levels up," the boxer declared.
On October 7, Harris will make the first step towards redemption when he squares off with Jeremy White in Chicago.
It will be a welterweight clash at the full 147 pounds  limit and the Guyanese is confident he will exorcise the demons and successfully make that vital  first step he hopes will lead him back into the top echelon of boxers, in the most potent division in the game at welterweight.
It is the division where Ortiz recently lost his WBA belt to the self proclaimed greatest of all outside of Muhammad Ali   –  Floyd Mayweather.
And while Mayweather recently cut his father from his team of trainers, Harris is about to go the opposite route.
He is pulling out all the stops to be in top shape for his American opponent and has persuaded his father Herman Harris to join him in Chicago from New York,  to round off his training, currently being handled by a Cuban.
Herman Harris, was in Vivian's corner when he dethroned Hurtado.
And while the younger Harris feels he will be inspired with his dad in close attendance, he expects the elder Harris' training input to give him an extra boost.
"He is one of the most underrated trainers out there and if I could have him around for every fight, my chances of winning multiplies," Vivian Harris proclaimed.
Hopefully his strength levels will climb as fast as his right hand used to punch.
Around the Web