By Iva Wharton
When it comes to the development of sports in Guyana it would seem that the private sector is doing much more than it should or too much is expected of them.
On the other hand, representatives of several sporting disciplines are saying the private sector could plough more money into some of the lesser developed sporting disciplines.
It is known that most corporate entities would chose to support a particular sport or venture that has the potential to reach a wide cross section of the population or a selected target group.
Cricket and football for instance are the two most popular sports in Guyana and many businesses rush to sponsor competitions because they have the potential to increase the profit margins for some of the sponsors.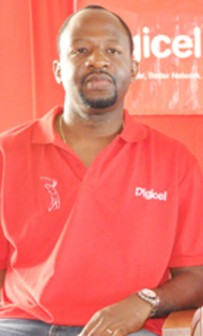 Representatives of associations have indicated in the past that corporate entities have turned them down after informing them that the sport is not recognized enough and it does not attract a large following.
One of the major sponsors in Guyana is telecommunications giant Digicel. Digicel ploughs huge sums of money into a variety of sports disciplines but according to Gregory Dean, Digicel's Chief Executive Officer, the company is not expecting any overnight returns on its investment.
Dean said that the company has invested in a number of sporting disciplines and it would take a number of years before you see any significant benefits.
"If you look at some of the countries where you see big improvements in the national teams, I think theactivites, in terms of whether its training programmes and actual tournaments have been running for a number of years."
Pointing to the schools' football championship held earlier this year, Dean said just being involved was a plus for the company. According to him, while it was a pilot programme, it gave all the parties involved a chance to organize and so that they can be better prepared for future tournaments.
"I suppose in two years from now, you could probably sit down and say well ok, what is happening in schools but not from a team point of view, but you have to start having the old inter-house competitions and all those kinds of things like the friendly matches between schools."
That programme, he said, would not just stop at the schools level, but it has to be expanded to football clubs of which some of school players are members of. As a result there is not just one solution that will bring about the desired result he said.
"At the moment there is not a lot of club football being played because of various reasons but all those things will have to be resolved to get football to a higher level than it is now," he said.
According to Dean, it's a credit to what the players have been able to achieve, given they lack the right foundation that will foster development.
With all the factors in place, Dean said that Guyana has a chance to produce one of the top football teams in the Caribbean Region, but it starts at the school level.
The same he said goes for athletics or any other sporting discipline, but he said there is need for greater development.
"We are willing to assist in any way we can, but I think at the end of the day we are just a sponsor coming aboard, we are not running the organisation, so to speak and setting the agenda in those sporting organizations.
"We just try to help in any way we can, whether it's financially or sometimes we get involved in some of the organisations, like the schools' football."
Squash, Dean said, seems to be a prime example of what can be achieved through hard work.
"We must tip our hats off to the squash association; it has shown that it can be done even if it's a small grouping of people, the pool they are pulling from is very small, yet they are achieving greatness in the Caribbean."
He said that the level of the sport will be further lifted because of the decision to expand to a wider section of the population.
Dean was referring to the partnership between the Squash Association and the Sport Ministry which has seen lots of schoolchildren, who otherwise would not have had an opportunity to participate in the sport, become involved.
Dean said that there is no discrimination when it comes to granting sponsorship. He said too that there is no fixed criterion when it comes to sponsorship, but said in many cases it is dependent on when you meet the persons and try to gauge what it is they are trying to achieve.
Sometimes, he said, it was a remote area where they are trying to get sports off the ground.
"Obviously cricket is one of our biggest sponsorship through the West Indies Cricket Board and that is from a group level. But from a local point of view, I don't think there is a sport that we would say we don't have an interest in getting involved in because we have been involved in most sports at one level or the other."
Asked if too much was expected of the private sector when it comes to sports development, Dean said no.
He said if business was being done in a country or community then you should want to give back.
"We are happy to get involved in community and sporting activities. If you like, activities that are outside of telecoms, so we are happy to do that. So I would say we don't have issues with persons expecting Digicel to give back.
One of the company's latest sponsorship is in netball. It signed a seven hundred and fifty thousand deal with the Guyana Netball Association which would see netball being played from the school level right through to the senior league.
Netball is just one the disciplines that was in search of such a deal. The association was having problems attracting new faces to the sport and keeping them because of the lack of sponsored  regular competitions.
Around the Web