DUNEDIN, (Reuters) – The rugby World Cup paused for  breath yesterday with a rare rest day as attention turned to  the preparations of the 13 teams hoping this weekend's final  round of pool games will send them into the quarter-finals.
Several nations in action over the weekend have drawn on  recent clashes for inspiration, or as a warning, but when it  comes to England against Scotland they have 140 years-worth of  rivalry to call upon.
The British neighbours, who played rugby's first  international match in 1871, meet for the 129th time but their  first on neutral ground in Auckland in a Saturday night special. England, who lead Pool B after three wins, are favourites and  need only a draw to top the group while Scotland will almost  certainly need not only a win but one with a bonus point to  maintain their record of reaching at least the quarter-finals of  every World Cup.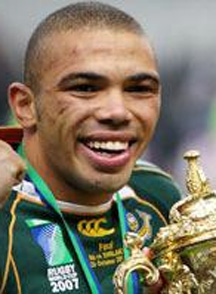 Mark Cueto, who scored a hat-trick against Romania last week  after coming back from injury, was left out of England's match  22 as manager Martin Johnson opted for converted fullback Delon  Armitage on the left wing.
Scotland captain and lock Alastair Kellock returns amid  seven changes from the side beaten at the death by Argentina  last week as coach Andy Robinson said he wanted to introduce  more pace to the side.
"There's a lot of chaos in England-Scotland games and the  thing is to be able to think clearly in that chaos, and one of  the things we're looking to do on Saturday is play really  quickly," said Robinson, who faced Scotland as an England player  and coach.
Johnson said he had not spent any time considering the bonus  point situation and group variables.
"It's knockout rugby, let's not worry about points  differences and things like that. We've got to win, they've got  to win, it's what World Cups are about," he said.
 COACHES BANNED       
England's preparations suffered a minor blip yesterday as  they banned assistant coaches David Alred and Paul Stridgeon  from Saturday's match as punishment for switching balls used by  Jonny Wilkinson to kick conversions in Saturday's win over  Romania.
Tournament organisers said there would be no further  sanctions but warned of "severe punishment" if there was any  repeat.
While England have reached their fourth game relatively  unscathed, Australia have been so hard-hit that coach Robbie  Deans was forced to name 35-year-old loose forward Radike Samo,  who scored a try against the U.S., on the wing for Saturday's  game against Russia.
Fortunately for Deans, he could probably field the entire  1991 Wallaby backline and still get the bonus-point victory that  should send them through.
"We've got four backs coming back to us next week so it  shouldn't be an issue going forward, unless we have a train  smash this weekend," said Deans, who expects to have more  selection options for a probable quarter-final with South  Africa.
The Springboks should take their place by beating Samoa on  Friday but winger Bryan Habana, who scored four tries in his  side's 59-7 victory over the islanders at the last World Cup,  said he expected a hard night's work.
"That first 20 minutes against Samoa in 2007 was some of the  toughest test match rugby I have ever played," Habana said.
Samoa have lost all six of their previous meetings with the  world champions but Fiji have enough form against Wales to give  them belief they could spring a surprise that could still sneak  them into the last eight for the second successive tournament.
Fiji stunned the Welsh in a 38-34 pool thriller in the 2007  tournament and followed up with a 16-16 draw in Cardiff last  November, having lost by only a point their on their previous  visit in 2005.
"It keeps your feet on the ground having had that experience  back in the autumn series," assistant Wales coach Rob Howley  said.
 READ READY
"It's not a bad thing, in terms of the Welsh psyche.  Sometimes we get ahead of ourselves and we think we're better  than we are. But we realise how good this Fiji side are."
It seems a long time ago that Welsh fans dubbed Graham Henry  "the Great Redeemer" after his impressive early impact as their  national coach in 1999 and  Saturday's game against Canada marks  his 100th in charge of the All Blacks.
Around the Web