Top junior player Suhai Feng shrugged off his controversy with the Guyana Chess Federation (GCF) to snatch the lead after two rounds of the Closed National Junior Chess Championhips which got underway yesterday at the West Demerara Secondary School.
Feng had told this newspaper that GCF officials had told him that he had been removed from being an executive member of the GCF after he had missed three executive meetings in succession.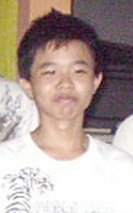 However, a press release from the GCF on Friday stated that they had not expelled the young junior player from the executive.
Buoyed by this turn of events Feng played sublime chess to score two wins from his two matches yesterday.
In his opening game he defeated good friend Rashad Hussain and then in the second round he stopped former national junior champion Cecil Cox.
Feng was able to fork Cox's king and a rook with his knight which resulted in him winning the rook.
Defending national champion Ron Motilall and Anthony Drayton occupy joint second position on one and a half points while Cox, Kana Khan and his brother Sham Khan are on one point each.
Hussain and Meikel Mahabir are without a point after two losses each.
Drayton and Motilall agreed to a draw in their second round clash after approximately 16 moves while Kana and Sham Khan each won their second round encounters.
Kana Khan got past Hussain in a pawn and rook end game while Sham Khan defeated Mahabir after a pawns and king ending.
In the first round Motilall defeated Sham Khan; Drayton defeated Kana Khan; Feng defeated Hussain and Cox defeated Mahabir.
The game between Drayton and Kana Khan was not without a bit of drama as Drayton's queen was en prise for three moves but Khan under time pressure failed to take the piece in exchange for a rook which would have given him material advantage.
The second round clash between Sham Khan and Mahabir saw Khan offering Mahabir a draw but Mahabir refused.
Mahabir subsequently offered Sham Khan a draw on three occasions afterwards but Khan refused and went on to win the game outright.
The competition continues today at the Guyana Olympic Association (GOA) building on High Street from 10am.
Around the Web