VISAKHAPATNAM, India, CMC – A typically steady hundred from Kraigg Brathwaite trumped a similarly balanced hundred from William Bosisto to set West Indies Under-19s up for a 16-run victory over Australia Under-19s yesterday, and a third-place finish in the Quadrangular Youth Series.
Brathwaite, the Young Windies captain, collected 11 fours and one six in the top score of 102 from 107 balls and three others passed 50 before the Caribbean side was dismissed for 365 from their allocation of 50 overs in the Consolation Final at the Port Trust Diamond Jubilee Stadium.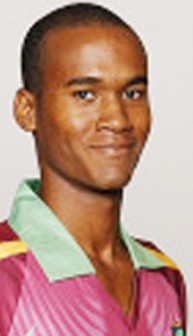 Anthony Alleyne supported with 90, Kavem Hodge made 62, and Sunil Ambris got 50 in a solid batting effort from YWI.
West Indies Under-19s became a little nervous, when Bosisto then led the way with 107 from 101 balls including nine fours and two sixes and two others hit half-centuries before the Young Aussies' reply fizzled on 349 for nine from their 50 overs.
This was the Young West Indies' second straight victory over the Australians, following an eight-wicket victory four days ago at the Reddy Stadium in this port city, and further avenged their 137-run defeat in their second match of the tournament.
It was also the second straight series in which West Indies Under-19s have dominated the Australia Under-19s, following a 2-1 series triumph earlier this year in a bilateral series in Dubai.
Young Windies were under pressure from early, when opener John Campbell was dismissed in the second over for a duck, becoming the first of four wickets for Alex Pyecroft that cost 66 runs in 10 overs.
But Anthony Alleyne hit 12 fours and three sixes in 90 from 77 balls and added 165 for the second wicket with Brathwaite before he became the first of four wickets for Shane Cassell that cost 62 in nine overs, and Kyle Mayers added 27 before Pyecroft bagged his scalp in the 32nd over. YWI were 199 for three, but Brathwaite inched to his hundred in a stand of 87 for the fourth wicket with Hodge, whose knock included six fours and three sixes from 62 balls, before they were two of three wickets that tumbled for 11 runs in the space of 10 deliveries.
West Indies Under-19s were 297 for six when Justin Greaves fell for five in the 43rd over, but Ambris took charge down the stretch before he fell with three deliveries remaining.
Derone Davis gave West Indies early control in the Young Aussies' chase with the scalps of Jimmy Peirson for one and the Australian captain Kurtis Patterson for a duck – both lbw from the first two deliveries in the second over – to leave their side 11 for two.
But Young Windies were put under pressure, when Cameron Bancroft smote 63 from 65 balls including seven fours, and featured in successive half-century stands, putting on 76 for the third wicket with Sam Truloff and 53 for the fourth wicket with Bosisto before falling to Donovan Nelson in the 22nd over.
scoreboard
WEST INDIES UNDER-19s (maximum 50 overs)
*K. Brathwaite c Cassell b Muirhead                               102
J. Campbell c Stanlake b Pyecroft                                        0
A. Alleyne lbw b Cassell                                                         90
K. Mayers c Cassell b Pyecroft                                            27
K. Hodge c Bosisto b Cassel                                                  62
J. Greaves c Patterson b Cassell                                            5
+S. Ambris c Stanlake b Pyecroft                                       50
A. Hosein c Bancroft b Cassell                                                1
D. Davis c Cassell b Pyecroft                                                   4
D. Nelson not out                                                                        4
A. Khan run out                                                                           3
Extras (b5, lb6, w5, nb1)                                                       17
TOTAL (all out, 50 overs)                                                 365
Fall of wickets: 1-3, 2-165, 3-199, 4-286, 5-293, 6-297, 7-314, 8-346, 9-362
Bowling: Stanlake 8-0-61-0; Pyecroft 10-0-66-4 (w1); Turner 10-0-75-0 (w1); Muirhead 10-0-71-1 (nb1, w1); Cassell 9-0-62-4; Bosisto 3-0-19-0 (w1)
AUSTRALIA UNDER-19s (target: 366 off 50 overs)
C. Bancroft c Mayers b Nelson                    63
+J. Peirson lbw b Davis                                    1
*K. Patterson lbw b Davis                               0
S. Truloff c Mayers b Davis                           39
W. Bosisto c Mayers b Greaves                107
N. Stevens c and b Khan                                  0
A. Turner c Mayers b Khan                        27
A. Pyecroft c Davis b Hosein                       0
S. Campbell run out                                      53
J. Muirhead not out                                     25
B. Stanlake not out                                       10
Extras (b9, lb5, w9, nb1)                         25
TOTAL (9 wkts, 50 overs)                    349
Fall of wickets: 1-11, 2-11, 3-87, 4-140, 5-142, 6-208, 7-209, 8-297, 9-324
Bowling: Greaves 10-0-99-1 (nb1, w1); Davis 10-0-30-3; Khan 10-0-60-2; Campbell 10-0-70-0 (w2); Nelson 6-0-41-1; Hosein 3-0-27-1; Mayers 1-0-8-0
Result: West Indies Under-19s won by 16 runs
Series: West Indies Under-19s finish third
Toss: West Indies Under-19s
Umpires: S. Hazare, S. Shastri
Matchreferee: B. Kalyanasundaram
Around the Web