Trinidad-based Papo Haniff took a commanding lead at the end of the first day of the R1 Vodka Guyana Open Golf tournament yesterday at the Lusignan Golf Club  even as officials were up to press time determining if he is a professional player in the Twin Island Republic.
Playing off a 0 handicap Haniff shot a gross 71 to lead defending champion Avenash Persaud on gross 78 while three players  Persaud's younger sibling Avinda "Ganguly" Kishore,  Canadian Roger Rajkumar and Lakeram Ramsundar are tied on gross 79.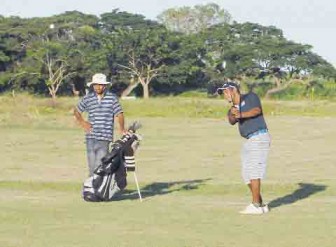 Ramsundar is competing in the 10-18 handicap flight. Other top contenders in the 10-18 flight were Colin Ming on 81, Jerome Khan 86.
Mark Lashley, Maurice Solomon and Surinamese Prediekoemar Doekhi  were in the lead position in the 19-28 flight.
Defending ladies champion Christine Sukhram lead on the distaff side with 82 gross followed by Suriname's Petre Beems on 92 and Joaan Deo on 95.
The tournament concludes today with play expected to start at 06:30 hours.
Close to 60 players are competing in the tournament including golfers from French Guiana, Suriname, Canada, United States of America , Trinidad and Tobago and hosts Guyana. Banks DIH Sales and Marketing Executive Carlton Joao was on hand to tee off the tournament at 07:00 yesterday.
Around the Web