Sandeep Chand and Andre Lopes fought their way past Jeremy Miller and Jason Glasgow to deliver the match of the day when play in the annual Trophy Stall Doubles Tennis Tournament commenced Sunday with matches at the Non-Pareil and Pegasus courts.
Known for teaming up with Jason Andrews, a change of partner did not pan out well for Miller, as himself and Glasgow fell 4/6, 7/6 (5/7), 9/11 (super tie break) to the third seeded lawn tennis pair of Chand and Lopes. According to a press release, Chand and Lopes found themselves equally matched in the opening set as the two pairs traded games to tie 2 – 2 before Miller and Glasgow took a 4 – 2 lead in the first set. However, that provided little comfort to Miller and Glasgow as their opponents took four straight games to close the first set.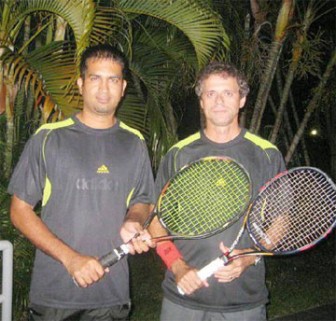 It was another well-fought battle in the second set with the score going to  6-6, forcing a tie-break. Facing an early elimination, Miller dug deep and his team took a 4-0 lead which they converted in a 7-5 win to even the match at one set all.
A super tie-breaker to decide the game again saw both teams going neck and neck before Chand and Lopes eked out an 11-9  win to advance into the second round.
Five other men's doubles pairs advanced to the next round. Daniel Lopes and Gavin Lewis took down Albert Madramootoo and Steve David-Longe 6/3, 7/6 (8/6); Kris and Joe Jagdeo scored an easy  6/0, 6/2 win against the pair of D Pyle and Mindat Lallbeharry; Kester Abrams and Bishan Dalip defeated Travis Ferreira and Jermaine Abel 6/4, 6/1; Ronald Murray partnered with Nicholas Fenty to defeat Sakae Yamada and Maxie Fox 6/2, 7/5; and the junior team of Benedict Sukra and Khalif Gobin received a walkover from T Ameerally and Mario Niamatalli.
Last year men's doubles winners Phillip Squires and Godfrey Lowden were expected to begin the defence of their title against Sukra and Gobin.
Meanwhile, in the ladies doubles category top seeded team Shawna Gentle and Aruna Ramrattan got off to a great start making easy work of Aretta Dey and  Krystal Sukra in a match ending 6/4, 6/0.
In addition, the mother and daughter team of Shelly Daly-Ramdyhan and Nicola Ramdyhan put together an easy double bagel win over the Boyle sisters who were participating in their first tournament. According to the release,  the Boyles put up a good defence against their more experienced opponents.
Around the Web