By Emmerson Campbell
The Guyana Football Association (GFA) launched its inaugural Banks Beer Knockout Football tournament at the Banks DIH Headquarters, Thirst Park yesterday.
During the press briefing it was disclosed that the tournament which will run from tomorrow, until January 1, 2012, will attract 16 teams – 15 GFA- affiliated teams and a guest team, possibly the Banks New York All-Stars.
The tournament will be a lucrative one as the first place finisher will receive two million dollars, the first, second and third runners-up will receive $1M,  $500,000 and $250,000 respectively.
Banks Beer Brand Manager Brian Choo-Hen said that Banks DIH Limited remains committed to the development of football and sport as a whole in Guyana.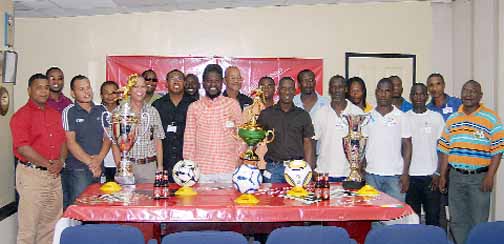 He also  reiterated that his company has a long history of supporting sport, especially football and  said he hopes this latest venture is a successful one as that is the main objective.
President of the GFA Vernon Burnett thanked Banks DIH Limited for its sponsorship of the tournament and mentioned that the company has made the GFA teams happy.
Burnett said that a club tournament has not been played for the last eight months and Banks DIH's tournament will serve as a welcome Christmas gift.
The GFA president highlighted that the tournament would be a successful one as football players are fit and are accustomed to playing competitive football at this time of the year.
Mark Phillips, Vice-President of GFA, echoed Burnett's sentiments and thanked Banks DIH Limited, especially, Outdoor Events Manager Mortimer Stewart for his support of the tournament. Phillips mentioned that the tournament will have eight playing days with the grand final on January 1, possibly at the Georgetown Cricket Club ground (GCC).
Phillips said that the GFA will go on an aggressive advertising drive in order to make the tournament a successful and well attended one.
Public Relations Manager of Banks DIH Limited, Troy Peters,  said that  the tournament is the start of something unique and he encouraged  football fans of Georgetown and its environs,  East Bank and East Coast of Demerara to support the tournament  because  it has the potential to match any other tournament in Guyana and the Caribbean.
Teams will include Alpha United, Sunburst Camptown, Fruta Conquerors, Rhythm Squad, Santos , Georgetown Football Club (GFC),Flamengo, Northern Rangers, Beacon, Guyana Defence Force (GDF), Guyana Police Force (GPF), Black Pearl, Houston Stars, Charlestown and a team from the University of Guyana.
In the double header tomorrow at the GFC ground, Bourda Fruta Conquerors will tackle GPF in the first match, while Camptown will take on Northern Rangers. The march past will commence at 17:00hrs while the first match will kick off at 18:00hrs.
Entrance fee for the opening will cost $500, while the price to enter preliminary games will be $700. The entrance fee for the finals will be $1,000.
Also at the briefing were Premium Beer Brand Manager Jeff Clement and  Outdoor Events Manager Mortimer Stewart.
Around the Web