MELBOURNE,  (Reuters) – Batsman Virat Kohli struck a commanding 132 against the Chairman's XI on the second day of India's tour match in Canberra to bolster his hopes of selection for the first test against Australia.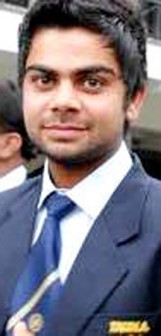 Kohli drove India to a first innings total of 269 before the Chairman's XI moved to 214 for seven at stumps in reply, with spinner Ravichandran Ashwin taking four wickets to leave the three-day tour match evenly poised.
Ed Cowan, another hopeful for the Dec. 26 test, scored 109 for the Chairman's XI, but the embattled Phil Hughes, widely tipped to be dropped for Melbourne, managed only 20 before spooning a catch to India captain Mahendra Singh Dhoni with an ill-timed sweep.
Usman Khawaja, another clinging to his test spot in Australia's brittle batting lineup, also gave selectors little cause for confidence after being caught by Dhoni on 25 off paceman Umesh Yadav.
Victorian spinner Jon Holland was the pick of the hosts' bowlers, taking six for 70, including Kohli and the prized wickets of Dhoni and VVS Laxman.
Zaheer Khan conceded 41 in a wicketless 10-over spell, with fellow paceman Ishant Sharma rested with an ankle injury after bowling less than six overs in last week's tour match before coming off.
The tourists were confident Sharma would be fit for the Boxing Day test, but would advise of his injury status later  yesterday or today, a team spokesman said.
Around the Web