MELBOURNE,  (Reuters) – Australian batsman Shaun Marsh will test his fitness in a Twenty20 match this  evening and is confident he will be ready to go for next week's opening test against India.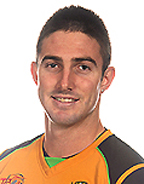 The 28-year-old lefthander, who has been struggling with a debilitating lower back injury, was named in Australia's squad for the Boxing Day test  with uncapped all rounder Dan Christian included as back-up.
After taking part in a three-day training camp for Australia's batsmen, Marsh said his back had improved considerably and should allow him to play his first test on home soil at the Melbourne Cricket Ground (MCG) next Monday.
"I'm hitting the ball well, I've had a really good two or three days and I feel that I haven't lost too much of my touch since South Africa and playing tonight will give me a bit more indication of where I'm at," he told reporters yesterday.
"I'm confident that if I can get through tonight and, with what I've done over the last (few) days, that I will be right and ready to go."
Marsh, who made his test debut against Sri Lanka earlier this year and injured himself in his third test against South Africa last month, will turn out for the Perth Scorchers against the Melbourne Renegades at the Etihad Stadium later today.
Pencilled in to replace dropped Usman Khawaja at number three in the batting order should he prove his fitness, the Western Australian said it would fulfill a lifelong ambition to play in such an iconic test match.
"To play in front of 75,000 plus fans on Monday is certainly going to be a dream of mine," said Marsh, whose father Geoff played 50 tests for Australia.
Around the Web