By Treiston Joseph
Tutorial Academy walked away with every possible award after they defeated New Amsterdam Multilateral Secondary School yesterday in the final of the National Schools Basketball Festival, Berbice Conference.
The event was organized by the Youth Basketball Guyana (YBG) organization and the National Sports Commission (NSC) and held at the Port Mourant Training Centre Basketball Court, Berbice.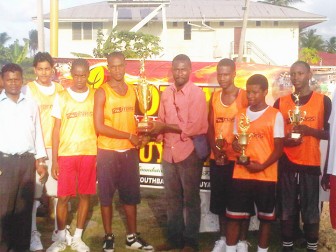 While both teams were from New Amsterdam, the final was kept in Port Mourant due to the newly refurbished facility by the Haynes Foundation making it one of the best facilities in Berbice and appropriate for such an event.
However, in the absence of star player Michael Bowen who was the leading scorer in the Berbice conference, Jamal Felix stepped to the plate showing profound leadership on the court as he dropped a game high 22 points to lead Tutorial to a 38-33 championship victory.
Tutorial played the passing lane well that disrupted the offense of N.A. Multilateral, resulting in a number of fast break points being scored by Tutorial with Ray Reddock supporting Felix with 10 points.
Ryan Caesar and Hubert Evans scored 11 and eight points respectively as N.A. Multilateral played a one pass, dribble penetrate or shoot game which often resulted in  turnovers that eventually caused them the first time title.
"I had to step up in the absence of Bowen. It was hard since I had to be organizing the defense in setting up the positions on my own but it feels good to win and while I have not played a game at the Sports Hall, I look forward to doing so in the festival," the Fifth form 17-year-old Felix stated after the game.
President of the YBG, Chris Bowman at the presentation which was held immediately after the game expressed his delight at seeing the success of the first regional conference to be held in Berbice. He has promised to hold coaching and officiating courses to help develop the sport in Berbice.
Bowen, however, while absent, received the Best Scorer of the Conference, the Best Defensive Player and the Most Valuable Player awards at the presentation after the game.
Meanwhile, the Digicel and Banks DIH sponsored Basketball Festival will continue with the Georgetown 'City' Conference Final on June 26 at the Cliff Anderson Sports Hall (CASH) as Marian Academy will clash  with St. Stanislaus College.
Around the Web