Andrew 'Sixhead' Lewis has no regrets about his life at this point and time.
"Regret, you have to shy duh behind yo' back. You talk about the past, yes, but you cannot bring back the past. You have to look forward and keep going ahead; I don't like thinking about the past," 'Sixhead' declared.
Lewis, born December 14, 1970, became Guyana's first world champion in February of 2001 when he defeated James Page, capturing the vacant World Boxing Association (WBA) welterweight title in the process. With this prestige came the perks both from at home and abroad.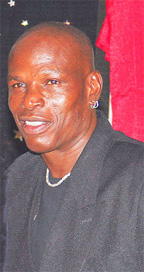 'The Albouystown Cy-clone' benefitted from the largesse of the Government of Guyana which offered him a transported piece of land and house on the East Bank of Demerara.
Lewis was riding high in American luxury vehicles.
He also had money to burn and the swagger that came with his new found, accomplished wealth.
His life was transformed into glitz and glamour but somehow, the hunger that exemplified his training prior to his world title fight was lost in the celebrations.
His exciting style of fighting which encompassed power in both hands seemed to be remnants of his glory days.
His first title defence was less than impressive. He took on Larry Marks at the Hammerstein Ballroom in New York and came away with a unanimous decision.
Next up was the trash talking Ricardo Mayorga.
That bout, held at the Staples Centres, Los Angeles, California, ended in the second round and was ruled a 'No Contest' due to a nasty cut on Lewis caused by an accidental head butt.
Lewis' problems persisted in the ring, losing the title in a rematch to Mayorga in 2002 via a fifth round TKO at the Sovereign Centre, Reading,Pennsylvania.
In 2003, Lewis challenged World Boxing Organisation (WBO) welterweight champion American Antonio Margarito, and was TKO'd in the second round.
Subsequently, he took a two-year break from boxing before returning in 2005 to fight 'Deadly' Denny Dalton for the vacant Guyanese light-middleweight title. The bout ended in a draw.
In the rematch in 2006, Lewis was knocked out before he finally got his revenge a year later with a points victory over Dalton.
Tragedy struck on June 5, 2007 when his uncle Abdel Nur surrendered in Trinidad as a suspect in the John F. Kennedy International Airport terror plot. Lewis had called his uncle a good Muslim and said he could not  believe his uncle was involved in the plot.
"It must be the wrong person.  My uncle was never into terrorism. He condemned the World Trade Center attacks," Lewis had added.
Apart from those losses, rumours ran amok of dwindling finances and the sale of his luxury vehicles to clear debts. There were also a few run-ins with the law, the last one seeing him being released on $10,000 bail after pleading not guilty to assault late last year.
He had told the court that was "all the money he got."
When Stabroek Sport spoke to Lewis recently he said that, "everything is good with me right now. I am a very independent person.
"I am a person that don't really depend on boxing but I love boxing and would never go against it; I will always support boxing."
A philosophical Lewis believes that pitfalls make persons stronger, citing that the "tribulations" he has encountered has taught him not to run but to "fight them out."
Reflecting on his mistakes, Lewis said that during his career his focus was on the "here and now, the short term" completely ignoring the opportunities where he could have focused on the "long term".
In retrospect Lewis admitted that "long term" planning is better.
Speaking of his personal life and making use of opportunities, Lewis declared that he has "all of his properties.
"I am a person like this, I don't sleep I's a go-getter. I am a man from the streets of Albouystown and I know how fo' eat everyday; I's a survivor.
"Me property that I got, I en got to sell anything," the former world champion added.
He revealed that he collects rent from his properties and currently has two cars on the road operating as taxis.
On the other hand, the 40-year-old Lewis, who lives at Hudson Ville on the East Bank Demerara, said many times during introspection, he thinks about returning to the sport since "boxing is part of his spirit."
He told Stabroek Sport that many times the idea to  "give it a next try, a harder try," comes to him.
When asked by this publication whether he was broke and in serious financial crisis the boxer said "no man, I am not broke, who said I am broke?" He indicated that in one's life one is bound to lose but equally one can regain what he has lost.
On many quiet nights, the now divorced Lewis said  that if he had a chance to do things all over again he would do them differently. According to Lewis, he is at a point where he knows what he has done wrong and he is working on correcting them.
Lewis concluded that he is now living a comfortable, normal life and in about five years time he wants to train fighters. This will be his bit to give back to the sport and he will not be "forcing life any longer."
Around the Web