LONDON, (Reuters) – Britain's former two-weight world  champion Ricky Hatton called time on his 14-year professional  boxing career yesterday.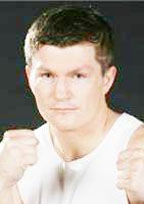 The 32-year-old has not fought since his IBO  light-welterweight world title defeat by Manny Pacquaio in Las  Vegas in May 2009.
Hatton's announcement on his website  (www.hattonboxing.com)signalled the end of a career in which he  had a 45-2 record with 32 knockouts at welterweight and  light-welterweight.
However, after a career in which he regularly ballooned in  weight before fasting dramatically for his fights, he lost his  licence following allegations of cocaine use in 2010.
Since his last fight, Hatton has become a successful  promoter.
Around the Web