LONDON, (Reuters) – Britain's former two-weight world  champion Ricky Hatton called time on his 14-year professional  boxing career yesterday.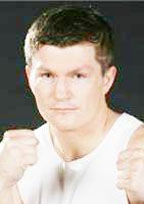 The 32-year-old has not fought since his IBO  light-welterweight world title defeat by Manny Pacquaio in Las  Vegas in May 2009.
Hatton's announcement on his website  (www.hattonboxing.com)signalled the end of a career in which he  had a 45-2 record with 32 knockouts at welterweight and  light-welterweight.
However, after a career in which he regularly ballooned in  weight before fasting dramatically for his fights, he lost his  licence following allegations of cocaine use in 2010.
Since his last fight, Hatton has become a successful  promoter.
Comments

LAS VEGAS, (Reuters) – Undefeated five-division champion Floyd Mayweather Jr claimed a unanimous decision in a feisty encounter against Marcos Maidana to successfully defend three world titles and improve his record to 47-0 on Saturday.

Sakima Mullings scratched another Guyanese boxer off of his hit list Saturday night.

Up and coming pugilist, Kevin Mullings punched his way to the best boxer award yesterday when the first of two Demerara Distillers Limited (DDL) under-16 tournaments concluded at the Andrew 'Six Head' Lewis Gym.
LAS VEGAS, (Reuters) – It took just minutes after Floyd Mayweather Jr had scored a dominant win over Argentine Marcos Maidana on Saturday before the undefeated welterweight champion faced the inevitable question.
A nine-second knockout of Young Achiever's Anthony Miguel at the hands of Pocket Rocket Boxing Gym's Keon Williams highlighted day one of the Demerara Distillers Limited (DDL) two-day under-16 tournament yesterday at the Andrew 'Six Head' Lewis Gym.