Wolf Warriors and Trophy Stall Anglels Saturday stormed into the quarter finals of the lucrative Guyana Telephone and Telegraph Company Limited 10/10 softball tournament at the Uitvlugt Community Centre ground.
Playing on home turf Wolf Warriors posted a staggering 160-2 against Leguan Super Stars.
Mohamed Carew topscored with 42 while  Amit Jairam ended on 39 not out.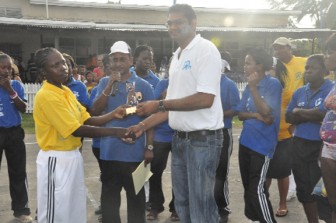 Leguan Super Stars' reply was anything but super as they reached 98-8.
In the female category Trophy Stall Angels were anythinh but angelic in defeating  All Stars Conquerors by 31 runs. Trophy Stall Angels scored 97-4 with Player of-the-Match S. Rodney scoring an unbeaten 46.
All Stars Conquerors in reply reached  66-3 with Akheila Castello topscoring with  30.
Full Results:
Adventure Sports Club defeated Coomacka Mines United by six wickets.
Coomacka Mines United 78-7 (Adrian Edmondson 25).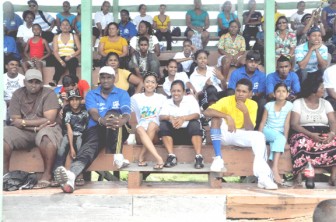 Adventure SC, 83-4 in 9.1 overs. Man of the Match Chandi Jairam, 27.
Affiance Storm, 127-3. G. Mangal 73.
Bush Lot Challengers  108-7. H. Hemraj, 66.
Sandust XI 92-7.  A. Rooplall, 50.
Speedboat SC 87 all out in 9.4 overs.
Nizam Hussain stroked 38.
In the Ladies division:
Capoey Warriors,77-5.Tishana Edwards, 35. Alana Phillips – 2-7.
Wakapoa 81-4 in 7.4 overs. Orlinda Richards, 33.
Capoey Arrivals 68-2. Monica Hendricks 26.
Rising Star XI 69-7 off 9.5 overs. Adela Graham, 25.
Falcons 95-2. A. Azad 54 not out.
Speed Boat SC in reply, 73-3. Daniella Samaroo 28.
The competition continued yesterday with the final round of matches in the Super 16 stage.
Around the Web