In fading light, led by a 167-run fifth wicket-partnership between West Indies Chief Selector Clyde Butts and Shawn De Souza, Guyana National Industrial Corporation (GNIC) secured a come from behind four-wicket victory over Demerara Cricket Club (DCC), on the final day of their Carib Beer first-division clash at DCC Ground, yesterday.
The day's proceedings begun with GNIC resuming on 55 for 5 in reply to DCC's first innings total of 235 but their resistance was quickly over as they were eventually bowled out for 125 in 33 overs with only Dexter Solomon showing any creditable resistance for the GNIC outfit – scoring 33. Established left-arm wrist-spinner Totaram Bishun spun webs around the GNIC batting line-up claiming impressive figures of 7-47 from 12 overs.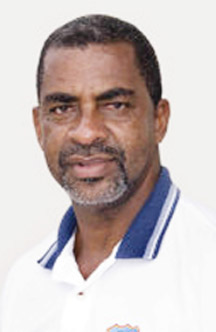 With a lead of 110, DCC, in their second innings reached 187 for 6 declared, with 2011 Demerara Under-19 representative Jahron Byron top scoring with 70 (10×4, 1×6). He received support for Trevon Griffith (32) and Omesh Dhaniram (30 not out). Rawle Merrell (2-45) and Keno Alphonso (2-31) had the best bowling figures for the GNIC side.
At this stage GNIC were given a stiff and somewhat unlikely target of 298 in a minimum of 41 overs left in the day's play. However, some aggressive batting on the small Queenstown venue with Butts (85), De Souza (79), Ovid Richardson (47), Solomon (17 not out) and Alphonso (21 not out), saw them to victory.
At one stage GNIC needed 112 runs to win in the last hour of play.
Bishun followed his first innings bowling heroics to claim 3-89 and a 10-wicket haul for the match. Dexter George also supported with 2-52.
In the four (4) matches played in the Noble House Seafood second division competition, 10-wicket match hauls from off-spinner Dennis Squires and leg-spinner Shavishwar Sankar aided DCC and Gandi Youth Organization in securing innings victories over GNIC and Vikings Cricket Club respectively.
At GNIC Ground; DCC defeated Third-Class by an innings and 36 runs. DCC resumed from their overnight score of 58 for 4, after they had dismissed Third-Class for 125 in first innings.
DCC eventually reached 255 all out in 52.4 overs on the back of half centuries from Lawrence Smith 91 (14×4, 1×6) and Andrew Gibson 55 (8×4). Off-spinner Ricky Bissessar was the chief wicket-taker with figures of 5-35 from nine overs, while national cricket scorer Trevor Hossein supported with 3-79 from 17 overs.
Third-Class, batting a second time and needing to score 131 to make the Queenstown side bat again or more realistically just try to bat out the day to secure a draw, quickly folded and were bundled out for 94. Squires claimed 5-47 from 11.2 overs to go with his 5-23 in the first innings and his skipper Jermaine Horatio snatched 3-25 bowling medium pace.
Up the road at GYO ground, the hosts  defeated Vikings Cricket Club, by an innings and 27 runs. GNIC who were on 315/5 overnight soon declared on 359/6, then quickly went about mopping up the Vikings batting line-up, bowling them out for 97 in 26 overs.
Frederick Pestano (20) and Cris Jagdeo (16) were the only batsmen to reach double figures for Vikings, as Sankar (4-23) and Nankishur Narine (3-11) ran through their batting line-up.
In their second innings GYO's batting performance improved – but it was not enough as their total of 238 all out in 41 overs, plunged them to defeat. Pestano again top scored with (71), while Davendra Beharry (35), Alim Haniff (36 not out) and Ryan Hemraj (29) were the other significant contributors.
Sankar almost single-handedly won the match for his side, with an analysis of 8 for 61 from 16 overs – as he finished with 12 wickets for the game.
At Muslim Youth Organization (MYO) Ground; the match between hosts MYO and Malteenoes ended in a draw.
Malteenoes, who started day two on 14 without loss after MYO were dismissed for 192 on day one; saw MYO securing a slender first innings lead of nine (9) runs after Malteenoes were bowled out for 183 in 50 overs.
Opener Dellon Moffet and Kareem Naughton each top-scoring with 40 for the Thomas Lands outfit. Off-spinner Shafik Ishmael was the main wicket-taker for MYO, with figures of 15.4-0-48-6.
Batting again, MYO declared on 135 for 9 in 23 overs. Ishmael completed a good all-round game, top scoring for the second consecutive innings with 37.
Guyana U15 representative Steven Sankar, who starred on day one with figures of 7 for 44, claimed 4 for 52 in the second innings, to become the third-spinner on the day to claim a lucrative 10-wicket match haul.
And, at the University of Guyana, Turkeyen Ground; 27 wickets fell on a dramatic day, which ended with Ace Warriors holding on for a draw against  Georgetown Cricket Club (GCC).
Day one had ended prematurely to rain with GCC struggling on 24 for 5, and yesterday they were scuttled out very quickly for 67 in 29.2 overs. Gavin Charles top-scored with 25 and, on a day that spin dominated, medium pacer Clint Jones was a rarity with figures of 6 for 29 in 13 overs.
GCC fought back dismissing Ace Warriors for 68. Rawle Enmore was the highest scorer with 29, as left-arm spinner Trevon France (5-34), medium pacer Bernard Bailey (3-22) and Winston Forrester (2-10) shared the wickets.
In the second innings  GCC batsmen fared much better  declaring on 153 for 3, with Forrester top-scoring with 91.
Ace Warriors hung on at the end scoring 53 for 9 in 22 overs, with the aforementioned first innings bowling trio of Bailey, France and Forrester  again amongst the wickets with figures of (2-10), (3-26) and (2-10) respectively.
Around the Web