By Iva Wharton
No local player has qualified for the second stage of the Digicel Kick Start clinic in Trinidad but according to the six players who participated in the first stage in Suriname, the experience was worth it.
In an interview with Stabroek Sport yesterday, the players said that four Surinamese players were selected ahead of them.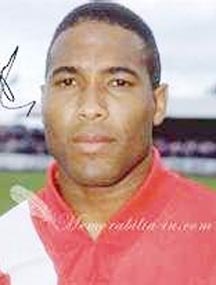 "We felt very upset, but in the end that is life, because there are more opportunities to come and we would still try and do our best."
The experience of working with a football legend in John Barnes, the former England International has taught them a lot, the Guyanese players said.
The players said that they learnt many new things, some of which they shared….."like playing in a triangle, reason for playing in a triangle, purpose for knocking a ball at one pace. We learnt how to keep football possession of the ball and interact with others so you can improve your skills."
Jermaine Fletcher, one of the players, added: "I think that it would benefit us a lot, that we go and learn something good and we could come and pass it on to our Guyanese."
The six players, who are members of different football clubs and attend schools in various parts of the country, said that the trip has brought them closer together.
"Everything turned out that we were the only Guyanese among the Surinamese, so it forced us to band together." The six players were  Fletcher of St. Mary's Secondary and Flamingo Football Club (FC), Troy Lewis  of Christianburg/Wismar Secondary and Netrockers FC, McCurd Crammer of Waramandong Secondary and Tunnel Tigers FC, Jason Cromwell of Annandale Secondary and Buxton United FC, and  Mark Wronge of Berbice High School and New Amsterdam United FC.
The players returned on yesterday from Suriname where the Kick Start Clinic was held. The three-day programme which started on Sunday catered for Guyanese and Surinamese players.
The clinic gave young footballers the opportunity to enhance their skills under experienced football coach, Barnes. The players described Barnes as interesting, serious and respectable and, according to them, he has made a mark on their lives that will forever be with them. "He shows you respect, lots of respect."
Asked to assess their Surinamese counterparts, the players said that they were basically at the same level, but felt that their fitness level was superior.
Around the Web