KINGSTON, (Reuters) – World champion Steve Mullings  has confirmed he has tested positive for the banned diuretic  furosemide and could now face a life ban from athletics.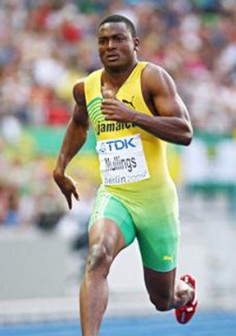 Mullings, who won gold in the 4×100 relay team at Berlin in  2009, had tested positive for the substance at the Jamaican  national trials in June, and was left off the country's team  for the Aug. 27-Sept. 4 world championships in Daegu when it  was named on Monday.
The 'B' sample, which was tested in Montreal, had also come  back positive and he was informed of the result by the Jamaica  Anti-doping Commission (JADCO) on Thursday, a distraught  Mullings told Reuters by telephone from his home in Florida.
"They say it was in my urine. That's a drug that has to be  prescribed," Mullings said.
"The people around me know I don't take drugs, but it's  going to look bad on me because 2004, now it's 2011 they said I  was on drugs that I don't even know of.
"What (does) that drug really do? I really don't know,"  added Mullings, who lowered his personal best for 100 metres to  9.80 seconds at the Eugene Diamond League meeting on June 4.
Furosemide is on the World Anti-doping Agency's banned list  because it could be used as a possible masking agent for other  drugs.
The Jamaican 200 metres champion now faces a possible life  ban from the sport after he was banned for two years in 2004  for excessive levels of testosterone.
Mullings said he was uncertain whether he would ask for a  hearing.
"What can I do? I'm going to go in front of the panel and  say I never took the drug.
But I don't have the proof to say,  'ok, it was vitamins'.
"I've already gone through all my vitamins and there's  nothing in there," Mullings said.
Mullings had been notified by JADCO on Aug. 8 that his  initial sample returned an adverse analytical finding at  Jamaica's national trial on June 24.
He now has 14 days to formally request a hearing from the  Jamaica Anti-doping Disciplinary Panel.
Around the Web