Listening to Andrew Tyndall on the steel pan you would be under the mistaken impression that he had to be introduced to pan music as a toddler.
Nothing could be further from the truth since in fact his first feel of the steel pan never came until he was about 12 years old and if his parents were to have their way he would have been a pianist instead of pannist.
But Andrew's musical endeavours are not just restricted to the steel pan since he can tell you a little about any musical instrument and he can hold his own on quite a few of them. It is the steel pan, however, that has his love and you can feel that love oozing through the sweet strains of steel pan music whenever he decides to display a skill that was learnt at his alma mater President's College, and which has been honed over the years.
He recalled that as a student at Stella Maris he was in the choir and upon the instruction of his parents he played the piano. But he never fell in love with the piano and many days (mom and dad would not be happy with this confession) he skipped piano classes. Looking back, Andrew said he is now grateful to his parents for this first push into the world of music as even though he later moved on to steel pan it was that first introduction to piano music that did the trick. In those days Stella Maris had a vibrant music programme.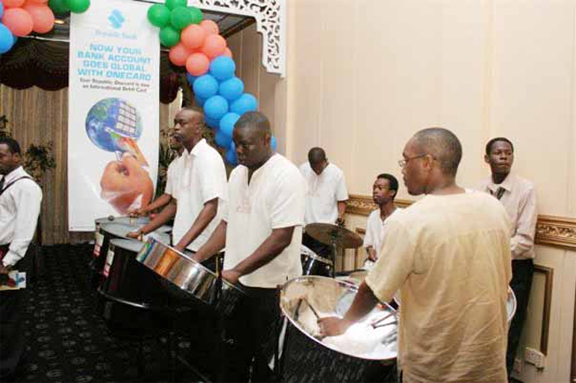 He would tell you that he loves music regardless of which form and it is in; his passion and love for music that has seen him being appointed the Music Development Officer within the Ministry of Culture, Youth and Sport.
During a sit down with The Scene, Andrew, who is one of those individuals who has been quietly doing their thing behind the scene and creating waves, opened up and spoke at length about his life in the world of music.
While he was a student at President's College, Andrew recalled, the school had a structured and vibrant music programme and it there he got his first taste pan music.
"I was fascinated by steel pan because… my piano was strictly classical music and it was too structured. Steel pan appealed to me because I saw the guys playing and they didn't have to read from music sheets… and I liked the mellow sound from the instrument."
He said he gravitated to it, and went to band tryouts but did not get through after three attempts. Never one to give up, Andrew persevered. In the end the instructor found out he used to play the piano and told him to go and join the band "so I didn't have to go to any more tryouts."
Because of his musical background he caught on very quickly. He had a classmate who was good at music and the two of them were the two persons who developed quickly in the band. Soon they were put in charge of different sections of the band. The fact that they lived in at the school, Andrew said, created the opportunity for them to really practice as a band and develop. During that period he began taking the external graded musical examination.
After he left President's College, Andrew took up teaching for a year and while he was the electronics teacher at St Joseph he was always found in the music room and had to be reminded at one time that he was the electronics teacher and not the music teacher.
"But I was very interested in music and I developed a great love for music," he recalled. While attending the University of Guyana he started teaching music at Dolphin Secondary School, he then went to Queenstown and lastly School of the Nations.
While all of that was happening, Andrew said, in collaboration with his former President's College colleague he formed a steel pan band which catered for children who left PC. That was in 1998 and the Parkside Steel pan band was formed. In 2002 his former colleague left Guyana and he has been in charge of it since. It now has a youth arm called the Pan Wave Steel Orchestra where children from the ages of eight to 16 are trained. The band is now housed at the Christ Church parish in Waterloo Street.
Interesting time
His move to the ministry in 2007 was as a result of his work in steel pan and it was at an interesting time with preparations for Carifesta. Andrew said he had a big input in the formation of the National Steel Orchestra band and he feels that the band of about 90 to 100 persons did well during Carifesta.
"It was very exciting because I got to arrange work for one of the biggest bands in the country and at such a young age it was very interesting." But he admitted he received a lot of help from persons like the directors of the musical bands in the Guyana Police Force and the Guyana Defence Force.
The band still exists with a membership of about 35 persons who are housed at the ministry and they perform at various state functions.
"The band is still around and it is still doing well," Andrew said.
He said his work at the ministry has seen him working with young people throughout Guyana where workshops are held. And now they have commissioned the building for the National School of Music located at Brickdam and College Road and the programme for the school will be rolled out soon.
According to Andrew, the school is geared at training the next batch of musicians and to give youngsters an opportunity to play instruments. The school will teach a wide range of instruments along with traditional Guyanese music.
"It is a wide curricula the school has; it would cater for teaching a lot about Guyanese musical history," the musician said.
The school is open to students from the age of ten but there would be a test before a student is accepted. Andrew said it would have about 50 to 60 students at any one time and classes would be free. It is hoped that it will be expanded over time and other centres would be established in other regions.
While Andrew is the administrator for the school, a director of studies would be appointed along with other staff members.
As the musical development officer, Andrew said he is involved in almost anything musical in Guyana.
He is the father of a five-year-old son and he said it is sometimes difficult to balance his schedule as he has to find time for him.
And while his son has a strong sense of rhythm and "good idea of pitch", Andrew quickly said "it wouldn't be one of those things where he has to do music because I am into music. He would do music if he likes music, if he doesn't like music I wouldn't force him."
It is Andrew's wish that one day the commercial industry will grow to a point where it would be viable for a person who wants to make music a career can do so "and live like a normal person." He also hopes that Guyanese music will become marketable and he posited that the country is at a juncture where music could take off with better recording studios.
And while Andrew is grateful to his parents for introducing him to music, paying for his music examinations and buying his musical instrument when he needed it, he said he credits his music teacher at President's College for his success in this area.
He has four sisters but only the youngest has shown some inclination to the musical world and even though she plays piano is not a career path she will be taking as she is into medicine.
Around the Web