By B.A. Barrington
When you talk with ordinary residents of New Amsterdam and its environs you get a sense of growing unease over economic conditions in the community. High unemployment is unquestionably the primary preoccupation. There are simply not enough jobs in either the public or private sector to go around and those residents in the community with few specialized skills bring little to the table with which to compete for the few jobs available.
Some good, however, may be emerging from this difficult situation. Forced to seek optional ways of earning a living some residents of New Amsterdam and neighboring communities are resorting to private business ventures, most of them on a modest scale.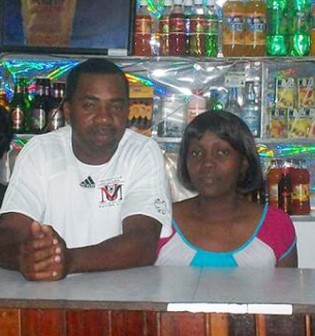 Numbered among the Ancient Country's small business entrepreneurs are Shurwyn and Letta Forde whose now thriving snackette and catering service and 'hangout' joint have grown steadily over the fourteen years that they have been doing business.
The Fordes reside in Smythfield, New Amsterdam. At the beginning they ran a typical micro business; Letta would prepare cooked meals and pastries in her own kitchen to cater for a clientele that comprised her immediate neighbors and friends.  The service grew gradually; Letta's catering acquired a reputation that spread to offices in the New Amsterdam and eventually she began delivering lunch baskets to clients at the National Insurance Scheme , GT&T  and the Ministry of Labour.
Word of 'good food,' it appears, gets around, and today Letta's Catering Service includes a delivery service that caters to customers as far as Palmyra on the Corentyne.  Growth has included the acquisition of contracts with public and private sector entities staging public functions including The Ministrries of Health and Education. Letta is also contracted to meet the needs of school canteens in the community.
Since 1997 the Forde's have relocated to their own home the premises of which include a separate kitchen facility to support the business.
The launch of Fordy's Sub in 2005 reflects the incremental growth of what began as a modest business establishment. The market for popular entertainment continues to grow steadily and the hangout joint located  at Winkle Road, Tucber operates both as an all-day branch of the catering establishment and a place of nocturnal entertainment. Its popularity with night time revelers continues to grow.
Apart from Shurwyn and Letta who function as full time workers for the establishment, they employ seven additional persons.
About a year prior to launching her business venture Letta left Guyana for a holiday in St. Kitts. She returned to Guyana with a plan to the pursue courses in culinary arts at the Carnegie School of Home Economics and, thereafter, return to St. Kitts to work in the hotel and tourism industry. Her plans to return to St. Kitts, However, were thwarted after she met her husband, got pregnant and was forced to surrender the option of going off on her planned Caribbean adventure.
Cooking has been a lifelong pursuit for Letta  and her earliest entrepreneurial venture benefitted from generous subsidies secured from her mother's kitchen. People in the neighborhood still remember a whisp of a girl who used to be a fine pastry-maker.
Letta credits the growth of their enterprise with the unstintimng support of her husband. A former Manager at the New Amsterdam Ferry Stelling, Sherwyn believes that his role in the enterprise is essentially a managerial one and that the skills that he brings to his current job from his salaried employment have proven useful.  Success, he says, has come about on account of a combination of a worthwhile product And shrewd management.
It is, Letta says, a family business to be handed down.   "I have a little daughter and I'm training her to do the work.  Whenever we have parties I would give her the cake to ice," Letta said.
The vagaries of a changing business climate continue to pose challenges for the Fordes but they are determined to soldier on, encouraged by the support of the community and energized by the knowledge that by establishing a business of their own they have effectively removed their future from the vissicitudes of a labour market that is often as unkind as it is uncertain.
Around the Web