– says crime, job scarcity driving migration
Chairman of Demerara Distillers Ltd (DDL) Yesu Persaud says that while he would advise potential investors to invest in Guyana, he believes that the need exists for the creation of a one-stop agency to facilitate them.
In an interview published in the 2012 issue of the Georgetown Chamber of Commerce and Industry (GCCI) magazine, Business Guyana, Persaud said: "Investors when they come to buy should not have to go to several institutions to get permission to invest in Guyana. There should be one permanent agency where they can acquire all the necessary information needed for investing in Guyana."
The comment by the DDL chairman, who is one of Guyana's high-profile and most respected businessmen, echoes oft expressed sentiments by other business persons and sections of the media. Some potential investors have also commented negatively on the predominance of "red tape" as against "red carpet", which obtains when investment enquiries are made.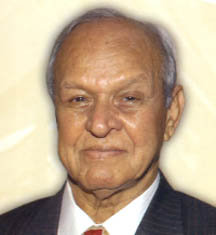 The state-run Guyana Office for Investment (Go-Invest) has, for years, been tagged as a one-stop agency for potential investors, though officials of the agency have stated publicly in recent times that Go-Invest serves much more as an entity that facilitates access to other state agencies than as a one-stop entity.
Meanwhile, Persaud who is also Chairman of the Board of Directors of Demerara Bank used the Business Guyana interview to call for the implementation of measures to put a brake on migration. "The crime rate is at its highest and thus people are migrating," Persaud said.
And according to Persaud difficulties associated with finding employment at home continue to spike the country's migration rate. "Well-educated and qualified   individuals are leaving our dear land to seek employment in other countries. These are matters that should be thoroughly investigated by the government of Guyana," Persaud said.
Asked to provide a personal rating of the investment climate in Guyana Persaud responded, "the investment climate throughout the Caribbean and Latin America is declining." With regard to Guyana the Guyanese business mogul said that while Guyana "with a huge land mass yet to be discovered" has tremendous potential, more emphasis should be placed on the development of the agriculture and tourism sectors.
Comments

What had appeared for several months to have been sharp differences between the Ministry of Natural Resources and representatives of mining syndicates over land allocation that had effectively stalled the commencement of work by the country's first group of gold-mining cooperatives now appears to have come to an end following an encounter between the miners and Minister of Natural Resources Raphael Trotman.

While there are signs that talks on the huge debt owed by the city to Puran Brothers and Cevons Waste Management have been bearing fruit, dissonance continues even as the garbage crisis in the capital may be worsening.

The Guyana Mining School and Training Centre Inc.,in partnership with its stakeholders and supporting training partners, has begun training more than thirty five young adults in disciplines relating to the application of STEM (Science, Technology, Engineering and  Mathematics) to the exploration component of  upstream oil and gas operations.

Gold Prices for the three day period ending Thursday November 16, 2017 Kitco is a Canadian company that buys and sells precious metals such as gold, copper and silver.

With good grades in English Language and Mathematics increasingly being touted as a critical doorway to higher education and meaningful employment paths in Guyana," the Georgetown-based JTW Management Institute has launched the City and Guilds of London and English and Mathematics certificates as what the Institute's Director Jocelyn Williams is describing as a "second chance" for CSEC students and young school leavers.