– says crime, job scarcity driving migration
Chairman of Demerara Distillers Ltd (DDL) Yesu Persaud says that while he would advise potential investors to invest in Guyana, he believes that the need exists for the creation of a one-stop agency to facilitate them.
In an interview published in the 2012 issue of the Georgetown Chamber of Commerce and Industry (GCCI) magazine, Business Guyana, Persaud said: "Investors when they come to buy should not have to go to several institutions to get permission to invest in Guyana. There should be one permanent agency where they can acquire all the necessary information needed for investing in Guyana."
The comment by the DDL chairman, who is one of Guyana's high-profile and most respected businessmen, echoes oft expressed sentiments by other business persons and sections of the media. Some potential investors have also commented negatively on the predominance of "red tape" as against "red carpet", which obtains when investment enquiries are made.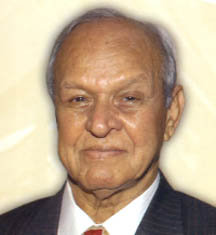 The state-run Guyana Office for Investment (Go-Invest) has, for years, been tagged as a one-stop agency for potential investors, though officials of the agency have stated publicly in recent times that Go-Invest serves much more as an entity that facilitates access to other state agencies than as a one-stop entity.
Meanwhile, Persaud who is also Chairman of the Board of Directors of Demerara Bank used the Business Guyana interview to call for the implementation of measures to put a brake on migration. "The crime rate is at its highest and thus people are migrating," Persaud said.
And according to Persaud difficulties associated with finding employment at home continue to spike the country's migration rate. "Well-educated and qualified   individuals are leaving our dear land to seek employment in other countries. These are matters that should be thoroughly investigated by the government of Guyana," Persaud said.
Asked to provide a personal rating of the investment climate in Guyana Persaud responded, "the investment climate throughout the Caribbean and Latin America is declining." With regard to Guyana the Guyanese business mogul said that while Guyana "with a huge land mass yet to be discovered" has tremendous potential, more emphasis should be placed on the development of the agriculture and tourism sectors.
Comments

Investment proposals in several sectors of the Guyana economy were facilitated by GO-Invest last year.

Cevons Waste Management and Puran Brothers have won the full backing of much of the private sector.

The country's remaining standing mangrove forests are continually under threat from "a range of natural and man-made factors".

A leading UK-headquartered market research firm, Technavio, is predicting that from 2016 and up to 2020 the projected growth of the global coconut water market is likely to be close to a whopping 27 per cent.

Nothing, she says, pleases her more than the modest achievement of Team Guyana at the recent international robotics tournament in Washington and the occasion it afforded for a celebration at home.