victims of domestic violence on how to speak out, where to go for help
Victims of domestic violence are expected to receive much needed assistance following the formation of an organisation which aims to educate them on how to speak out on the issue by conducting "empowerment sessions."
The Caribbean America Domestic Violence Awareness (CADVA) organisation was launched in Orlando, Florida recently and organisers will early next month roll it out in Berbice where two local offices are to be based.
A registered organisation in Florida, CADVA according to its founder Sukree Boodram will leave a legacy and roadmap "for any… person who thinks he or she cannot make a difference."
Boodram, a US-based Guyanese who experienced 21 years of domestic abuse which she chronicled in a book, Breakout: Surviving Abuse and Alcoholism. This is My Story, is supported in this venture by Dianne Madray of the Irene Madray Recreational Arts and Resources Centre (IMRARC). The two are also part of the Break the Silence, Say No to Domestic Violence Group.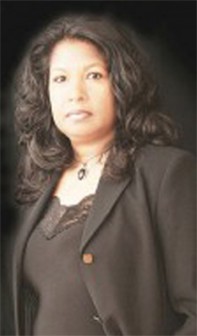 According to Boodram CADVA brings "grass roots" open discussion sessions to targeted communities with a view to educating them on how to walk away from abuse, where to go for help, how to stay safe in an abusive situation, how to protect their children and loved ones and how to obtain help, both emotionally and financially.
It is envisaged that CADVA will partner with trained and licensed professionals, past victims who have survived abuse, help agencies, law enforcement, government agencies, non-governmental organizations and even former abusers who have recovered, along with others who collectively will provide the necessary help for victims and their families.
"CADVA will partner with anyone or any organization whose purpose is to help in combating domestic violence. 'Grass root' sessions will empower victims and encourage them through collaboration, education and by example," Boodram has said.
According to Boodram CADVA will focus initially on the US and the Caribbean where large pockets of cultural demographics exist in communities and domestic violence is not openly discussed and help is not sought. It was pointed out that most of these areas already have existing agencies that provide services to victims and their families, but the outreach between those agencies and the community needs reinforcement.
New York City Mayor's Office to Combat Domestic Violence, Harbor House of Central Florida, Help and Shelter in Guyana are some of the organisations CADVA will be partnering with.
Boodram said that with the help from donations, funding, charitable contributions and the organisation's partners they will be able to bring the sessions to communities that desperately need them.
"We can no longer look at this issue from a bird's eye view or from a macro level. We have to address it from the ground or micro level if we want to see any change or [make] any dent in this epidemic. CADVA will be at the ground level," Boodram said in a statement.
According to the organisation's mission, it will provide a safe environment where individuals and communities can converge, listen, share and receive vital information and help on how to combat domestic violence in their local areas.
"The primary focus is on cultural communities where domestic violence is an acceptable social expectation and not speaking out when experiencing abuse or when knowledge of abuse is considered normal and acceptable," a release from the organisation said.
CADVA said that abuse is a learned behaviour and its acceptance is also a learned behaviour. It promises to help both victims and abusers learn healthier ways of dealing with anger, control, power, manipulation, low self confidence, low self worth, etc. These factors contribute to domestic violence.
"This organization will exist long after its founder is gone. It will become a legacy and a roadmap for any one person who thinks they cannot make a difference. CADVA will teach others how to make a difference," the release said.
In Guyana, Madray will be the Chief Operations Officer; Tiffany Jackson, Georgetown representative; Cheryl Lata Inderdeo and Derek Ragnandan, Berbice representatives. The overseas volunteers are Richard S David and Nina S Singh, New York; Boodram, Guenet Gittens-Roberts, Kathleen Campbell and Kay Russell, Florida. Volunteers are needed for Demerara and Berbice. All employees, directors and agents of CADVA will be reviewed and approved by the board of directors and appointed trustees.
"The character of this organization will be recognized as one which provides unselfish support to victims and their families. This organization will be their voice when they have been silenced, their strength when they have been weakened and transform them into priceless gems when they have been made to feel worthless," the organisation said.
The organisation will be launched by way of a press conference on March 3 following which the organisers will move to the University of Guyana Tain Campus on March 5, March 6 at the Mibicuri Community Developers in Black Bush Polder, March 7 at the Transitional House in New Amsterdam, March 10 the RHMA World Harvest-Alpha Children's House also in New Amsterdam, and March 12 at the Roadside Baptist Church in Corentyne.
Around the Web