By Earl B John
Regrettably so few of us are around to pay tribute to one of the great all-round sportsmen of his generation – Maurice Moore, who died on January 8, 2012, in a nursing home in Toronto, Canada, after languishing for several months during which he reportedly lost conscious touch with his family and the rest of the world.
Maurice Moore attended Queen's College from the late 1940s to early '50s, where he excelled in football, cricket, hockey and table tennis. He represented QC at football under captain W I (Bud) Lee, now retired surgeon of Woodlands Hospital. The QC magazine of 1949-50 described Maurice as "a hard kicking centre-half, and fearless tackler." He went on to follow in the footsteps of his legendary father – Stanley Moore – of the historic Victoria Football Club, and played for, and eventually captained the national team.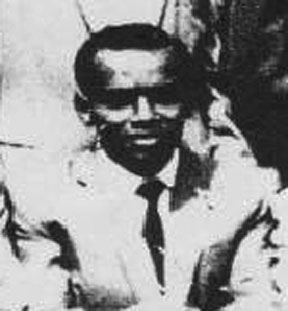 At cricket Maurice at times played for the college's Case Cup (First Division) team under Captain Arnold Gibbons, now retired Professor of Communications, Hunter College, New York University, USA. Another outstanding teammate was Aubrey Bishop, who became Chancellor of the Judiciary and recently retired as Law Professor, University of Guyana. Both of these scholars represented British Guiana at cricket. 'Bud' Lee was also a member of that illustrious QC team, along with the late Dr Walter Chin.
With typical witticism which he still retains, Captain Gibbons wrote of Maurice Moore: "a quick-footed player with a keen eye, but generally uses his footwork to the bowler's advantage, for he has succeeded in being leg-before more times than not. . .  Has a dislike for catches, especially the lofty ones, which he seldom takes and frequently avoids."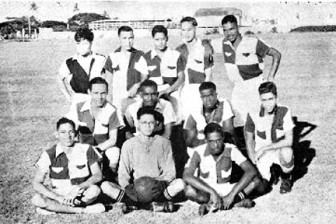 It was during Maurice's stint as captain of the prestigious British Guiana Cricket Club's first division team, that as an Assistant Personnel Manager, Blairmont Estate, Berbice, I negotiated for his club to accept the young unknown Roy Fredericks from the neighbouring village of Ithaca, to become a member in order to play first-class cricket in the city, and be exposed to the likes of mentors like Clyde Walcott. Roy's career has since been a highlight of West Indies cricket legend.
Maurice was also included in QC's Hockey X1, playing at 'outside left' and "showing good stickwork" (according to the QC magazine). He went on to represent the BGCC at hockey, along with Aubrey Bishop.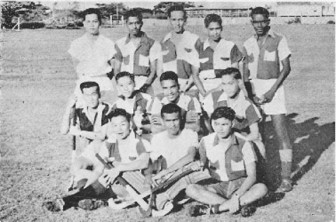 Arguably Maurice's prowess peaked in table tennis. From representing, then captaining the QC team, he went on to be national champion. Monty Clarke, another acclaimed all-rounder – skilful in cricket and football – recalls his rivalry with Maurice in one final championship match. He was leading Maurice comfortably, but, as he said, Maurice was a fighter, and to his amazement, Maurice fought back to win the match and the championship.
Monty who led the BG table tennis team on several occasions, and who was so saddened on learning of Maurice's passing, recalled that both Maurice Moore and Roy Fredericks were members of the national team which he led against Jamaica one year. Maurice subsequently represented Canada at international table tennis competitions, having migrated there some decades ago.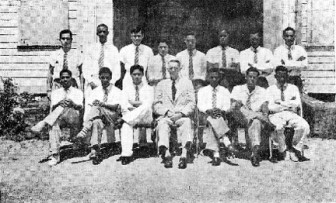 As the following photo shows, Maurice was appointed a prefect in the school year 1950-1951.
Interestingly, before Maurice Moore migrated to Canada he had become a member of the Penum-brians, a club formed by his erstwhile schoolmates, Aubrey Bishop and Frank Mongul – incidentally, one of Queen's most outstanding athletes of any era. Frank became a doctor of veterinary medicine.
Maurice, who qualified, and practised as an accountant, was also an ardent chess player, at a time when the game was hardly popular. He has just made his last move, hopefully to the accompaniment of music in which he indulged as an accomplished pianist.
All of us sporting colleagues and the Penumbri-ans pray that Maurice's soul will rest peacefully.
Around the Web