This is the thirteenth in our series on new parliamentarians
Jaipaul Sharma is no politician and sees his work as a parliamentarian (MP) as a job which he plans to perform diligently to ensure that the people of the nation are represented and the government is held accountable.
Sharma is one of the new APNU parliamentarians through the Justice For All Party (JFAP), which was formed by his father CN Sharma. But the former public servant made it clear to the Sunday Stabroek that he is not a politician. He said he has been paid by taxpayers for his entire working life and has also performed to the best of his ability and he plans to do no differently for the next five years in the National Assembly.
"From the age of 19, I joined the public service and I worked at the Office of the Auditor General. I spent eight years there," Sharma said.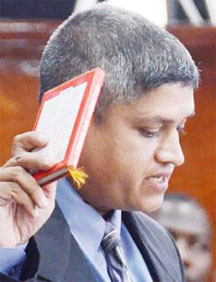 After his stint at the Auditor General's Office, he worked at the Public Service Ministry, Ministry of Labour, the Region Six Regional Democratic Council (RDC) office and then at the Guyana Elections Commission (Gecom) where he remained until last year. He describes himself as a government accountant and he said that since he cannot use his skills in the commercial sector or at private entities, the experience can better be used in parliament.
"My experience is more linked with government and government is linked at the level of parliament so I have this wealth of experience that will apply…" he said.
Sharma resigned from Gecom in April of last year following differences with a senior functionary at the commission, whom he said wanted to take control of the work he did as a senior finance officer.
"He wanted to dictate and I am not that kind of person. I get a responsibility and I must be allowed to carry out my responsibility," Sharma said.
Sharma went on to say that he was contemplating migrating to a Caribbean country but then he received a request from his father to assist him in preparing his party for elections for which he would be paid a stipend. Sharma said he found that his father had received incorrect documentation from Gecom and this led to him being unable to prepare for Nomination Day. As a consequence he advised him to join the partnership.
Since his father has ongoing court cases in which he is accused of child molestation, Sharma said, it was felt that he should not be placed in the spotlight as the court cases would have been ammunition for the ruling party to attack him on the campaign trail. As a result he was nominated to represent the party in the partnership.
In Parliament, Sharma will work along with former finance minister Carl Greenidge and he said his role will be focusing on ensuring that the government is efficient and transparent in the financial affairs of the country. He is also a member of the Public Accounts Committee, which is chaired by Greenidge.
"The government has to expend public funds without wasted extravagance, meaning they must not spend without any plan. And what you have been seeing with this government is that they have been spending money without any plan," Sharma said.
Sharma stressed that many times the government embarks on projects without having the requisite consultation and this results in millions of taxpayers' money being wasted.
The new parliamentarian said he is not promising that he can make any changes in the way the affairs of the country are managed, as this depends on the government, and from all indications the government is not ready to accept change.
"If they don't get this budget through in the way they want it… just so dry they could go and call elections," Sharma said in relation to the budget that was presented by Dr Ashni Singh on Friday.
Should the electorate then give the PPP/C 51% of the votes, he continued, "it is back to square one and so my promise will not mean anything.
"So I have a job to do and my job is to do my best to see how we are going to get the government to be more accountable and accountability means exposing them. If you expose them enough people are going to listen and watch and they are going to react."
Unfortunately, Sharma said, the government has been allowed to get away with many wrongdoings over the past 20 years, because the majority of the populace is more concerned with bread and butter issues than what happens in Parliament.
He said the government uses the silence of most as a sign that they are happy with way the country is being governed, but on the contrary it is just that people don't have time as they have other matters to deal with.
While the government touts that it has given land to citizens, Sharma said the administration has made land available but it is not affordable, and persons are forced to take loans and place additional burdens on themselves.
"I can't make that change, I can't promise to make that change. The people have to see when we expose any [in]efficiency that is happening and when we expose it we have to keep speaking and people will listen," he stated.
With the new dispensation, he said, the opposition parties can make changes pointing out that while the opposition does not have executive powers it is part of government.
"We are members of parliament and we are being paid from the treasury, so we are not opposition… we are sitting in this House and we are being paid by the people… and we have a job to do by ensuring the government does its job."
He advocates votes of no confidence against ministers who are "out of control… if they can't perform they must go until the President finds a suitable replacement, a person who we feel is accountable."
Sharma noted that parliament is a proportion of the entire country and as a result when the government is accountable in Parliament then it is accountable to the people.
"We could use this one seat majority to ensure that the ministers the President appoints are working in the interest of the people and the country…"
He is of the opinion that votes of no-confidence against non-performing ministers would be "helping out" President Donald Ramotar who is also the General Secretary of the PPP/C and would be forced to "go in a particular way and so he can't touch them, but the opposition could touch them." He said this might be because the ministers may get support from the constituencies and the President might be fearful of getting supporters angry.
"But he wouldn't have a choice if the opposition with the one seat majority votes to have the minister removed and would probably thank us for removing a person that was affecting the way he should be going about business."
Sharma is married with two children but his family has since migrated to the US. He has no plan to make a foreign land his home.
He said because he has been a public servant for the past 18 years he has not been close to his father who has been at odds with the government for a number of years. "Especially working at Gecom; they gave me an opportunity to serve at a very senior position. I was the financial manager and the son of CN who always makes comments attacking the government.
But they did not treat me in any biased form and in return I was loyal to them and kept what I knew to myself and never divulged anything."
He said even now he has information that he would not divulge to anyone.  Sharma said his father was very understanding and he actually kept away from him and they would have seen each other every few months. But now he spends a lot of time with his father.
"Knowing that he is not well I have an opportunity to spend time with him and so I have not really fight to go for employment. I spend almost every day with him right him now… so we are close presently."
Around the Web