Long before Donald Ramotar was eventually chosen by the People's Progressive Party (PPP) to be its presidential candidate at the 2011 general elections, there was talk that a way was being sought to have Bharrat Jagdeo circumvent the constitutional provision which he himself had signed into law in order to have a third presidential term. If the third term gambit was eventually publicly dismissed by Jagdeo himself, sources close to the ruling party had earlier confirmed that an initiative had indeed been taken to try to keep Jagdeo in office.
The reasons were not too difficult to discern. The death of President Cheddi Jagan, the founding leader of the PPP who, even in death, remains an icon to the party's members and supporters, had resulted in the altogether unintended inheritance of the presidency by Prime Minister Samuel Hinds, whose constitutional entitlement to the post did little to quell the political ripples resulting from the ascendancy to the highest office in the land by a non-member of the ruling? Mr. Hinds' tenure which lasted from March to December 1997 was a largely uneventful one, the presidency during his time in office seemingly carrying decidedly less weight than the office of Prime Minister, to which Dr. Jagan's American-born wife, Janet, had been appointed.  At the December 1997 elections an ageing Janet Jagan was elected to office.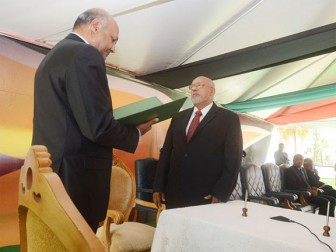 If her credentials as a founding member of the PPP might have entitled her to the presidency, her tenure coincided with a period of national political restlessness arising, first, out of the controversy that followed the 1997 general elections and, secondly, out of a measure of resentment in some quarters over an American-born woman holding the office of President of Guyana. Indeed, it was both the political restlessness that attended her tenure as well as her failing health that led to her premature departure from office in August 1999.
Enter Bharrat Jagdeo on August 11 of that year to serve out the remainder of Mrs. Jagan's term. While none of the PPP's leaders – with the exception of party veteran Moses Nagamootoo, who up until his political defection maintained that he had been Dr. Jagan's anointed successor – publicly challenged Mrs. Jagan's choice, the emergence of a 35 year-old political infant – compared with other serving PPP stalwarts – as President created, for a while at least, a sense of national bemusement.
At the start of his tenure Bharrat Jagdeo may have appeared out of place as Guyana's President, though, ironically, his youth may well have served to quell internal PPP concerns about longevity arising out of the sudden death of Dr. Jagan and the retirement, partially through age and ill health, of Mrs. Jagan.
At the start of his tenure Jagdeo became the butt of jokes that had to do with his youth and inexperience. He endured, however, emerging long before the end of his tenure as a dominant political figure. Not everyone applauded his style, not least his ceaseless self-promotion and his frequent public tantrums. What is unquestionable is that by the time he left office he had stamped his authority over his senior and more politically experienced comrades in the party and had become visibly more comfortable and confident in the office of President. Indeed, on one notable occasion he even risked a public spat with Mrs. Jagan. Some party members and supporters now place him on a pedestal that might even rival Dr. Jagan's iconic image. Had the constitution so permitted, Jagdeo would certainly have been a shoo-in to run for a third term in office.
Even after the third term tremor had passed there was no automaticity in Donald Ramotar's candidature. The manner of his rise within the PPP had caused him to come to be seen much more as a key 'engine room' man than a top deck functionary. That perception of Mr. Ramotar was almost certainly strengthened by the fact that over the nineteen years that the PPP has been in office he has neither held a cabinet position nor even a high-profile bureaucratic one.
His rise within the PPP has been steady and his seemingly automatic choice to replace Dr. Jagan as the Party's General Secretary suggests that by 1997 he had become a respected authority figure within the Party.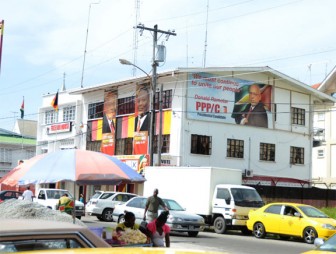 Once it had become clear that the PPP would hold its own internal election to decide on a presidential candidate, other senior party figures, including Home Affairs Minister Clement Rohee and Speaker of the National Assembly Ralph Ramkarran threw their hats into the ring and Ramotar's nomination only appeared certain when it became clear that it had secured Jagdeo's backing. Still, in the face of persistent rumours that the process was 'fixed' and that it had left Ralph Ramkarran brooding, questions persisted as to whether Ramotar was the best candidate.
Measuring Mr. Ramotar's suitability for the presidency is not the simplest of tasks. Prior to being sworn in as President on December 3 he had held no cabinet post or even a lesser bureaucratic appointment save and except his sinecure appointment by President Jagdeo as a Presidential Adviser in response to opposition charges that his presidential campaign was benefitting from a generous state subsidy. What the advisory appointment did was to justify his campaign travels, always with President Jagdeo in tow, at the state's expense. In fact, on these occasions one might have thought that it was Mr. Jagdeo and not Mr. Ramotar who was running for the presidency.
In his public pronouncements, meanwhile, Mr. Ramotar appeared suitably grateful for the President's backing, even promising that Mr. Jagdeo, whom he deemed a valuable national asset, would be part of his own setup if he ascended to the presidency.
Donald Ramotar joined the PPP in 1967, He was elected to the party's Central Committee in 1979 and to its Executive Committee in 1983. Always exuding the aura of a political engine room man rather than a bureaucratic high flier, he is regarded, first and foremost, as a 'party man.' Whatever the nation  as a whole might expect from the presidency of the 61 year-old University of Guyana graduate, – and those expectations still remain unclear – his election to office further reassures his party's members and supporters that it is the PPP that holds the reins of office. Granted, there are expectations of the president that go beyond those of the PPP's members and supporters and extend to the nation as a whole and this, one expects, will be recognized by Mr. Ramotar. Still, he is what he is…………the PPP's General Secretary and at least up until now his accession to the presidency has given rise to no internal party demands that he surrenders the de facto leadership of the PPP.
Comments

This article submitted by the Guyana Sugar Corporation (GUYSUCO) contends that tackling the challenges facing the sugar industry has broader implications for the Guyana economy as a whole.

On the eve of the second anniversary of the accession to office of the APNU-AFC administration, President David Granger talks with The Guyana Review about his administration, his presidency and his vision for the future of Guyana ________________ Guyana Review: You are the only President of Guyana ever to have served in that office without the benefit of any prior Cabinet experience.

University of Guyana Vice Chancellor Professor Ivelaw Griffith talks with The Guyana Review about the challenges that inhere in the transformation of the University of Guyana Guyana Review: Perhaps we can start by trying to secure an insight into your vision, your priorities for the University of Guyana.

By Raphael Trotman MP, Minister of Natural Resources Many adjectives and superlatives can be used to describe today's happenings not just what is unfolding at this instant at the Georgetown Marriott, but overall, I am speaking about what is taking place within Guyana and around the world following on the announcement of a 'significant' discovery 200 km offshore Guyana's territorial waters – "historic", "transformational", "transcendental", "outstanding", "stupendous", and "exciting" are some words which spring to mind and have been used.

Earlier this year The Guyana Oil and Gas Association (GOGA) hosted its first Conference and Exposition under the theme, "The Initiation of a Transformative Industry".