Grocers at Vryheid Village, West Canje Berbice and at Bel Air Village, West Coast Berbice were last night and today attacked and robbed by bandits.
Police say that at 10.30 am today, four men, two of whom were armed with firearms, entered the grocery shop of Albert Subhan, 56 years, of No. 22 Bel Air Village, WCB, and held him up along with his wife Zulika Subhan, 56 years, and daughter Zamena Subhan, 28 years.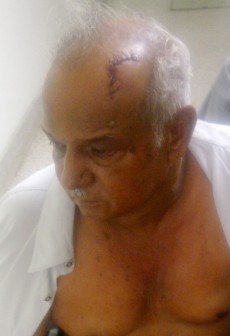 The men assaulted Albert Subhan about his body and also took away $500,000 and a quantity of jewellery, police said. Subhan had to be rushed to the Georgetown Hospital.
As the perpetrators were leaving the grocery shop, police said that Subhan's son-in-law Wazim Sheriff, 36 years, entered and he was held at gunpoint and his licensed .32 pistol and ammunition along with $8,000 were taken away.  The men then placed Sheriff in his motor car PNN 871 and escaped in the vehicle.
Police said that Sheriff later reported at the Mahaicony Police Station and stated that the perpetrators had abandoned him and the motor car at Yorkshire Dam, Mahaicony, ECD, after he had been tied up.
The car was recovered with the engine disabled and the keys missing, police said.
Investigations are in progress.
And at about 2115h. last night, police said that four men armed with guns entered the Fung-Fook Supermarket at Vryheid Village, West Canje, Berbice, and held up the owner Deryck Fung-Fook, 53 years; his daughter and cashier Erika Fung-Fook, 21 years; and Leonard Bhagwandin, 46 years of Vryheid Village.
Police said that the perpetrators placed them to lie on the ground and took away a sum of cash and a quantity of jewellery and escaped.
The police said they responded promptly to the report received and pursued the men in the direction where they escaped, leading into a swampy area, during which there was an exchange of gunfire.
No arrest has been made.
On Sunday evening, a Betsy Ground, East Canje man was attacked by bandits and severely chopped about the body.
Around the Web