Relatives of businessman Davendra Bholanaught, who was gunned down by a fleeing robber two years ago, are puzzled as to why police have neglected to charge a suspect more than a year after he was positively identified.
Reminiscing on that fatal day is heartbreaking for them, but relatives believe that one day they will get justice. Some relatives, however, particularly Bholanaught's wife, Julie, are no longer confident that the investigators will solve the case.
A police official told this newspaper that the police had initially suspected alleged gang leader Tyrone `Cobra' Rowe in the killing but he was never charged because he was not identified as being one of two persons who invaded  the Ezee Runnings Taxi Service base on Sheriff Street on January 25, 2010.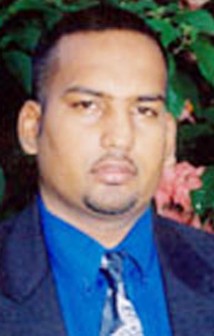 However, during a recent interview with Stabroek News relatives related that after Rowe was arrested two eyewitnesses from the incident failed to pick him out during an identification parade.
Some time later during another identification parade, a notorious criminal who was captured in Linden was identified.
"Even the police tell we that you coulda see the expression on one of the witness' face. That person was clearly traumatized," this newspaper was told.
Julie said that from the beginning the investigating rank (name given) kept saying that robbery was clearly the motive. The woman explained that the rank continued to claim that the suspect was already before the court and that they (the police) would institute charges at a later date.
Amidst anger and frustration, the woman said that when she contacted the rank in February last year she was simply told not to worry. "Is one year since and I am so annoyed. Every time you go into them [police] you have to talk this thing over and over. Is like it bringing back fresh memories," she said, noting that she had given up on that aspect because it is too upsetting when she contacts the police for updates on the case. "I stopped communicating with police because I was getting very little help," she said.
Bholanaught's brother-in-law Gopaul Boodhoo is equally upset. The man who has been following the investigations closely said the investigating rank told him that the file was at the chambers of the Director of Public Prosecutions (DPP) and that the family needed to hire a private lawyer in order to successfully pursue the case.
Boodhoo said he was taken aback by what the rank said, noting that since then the family has heard nothing. "He just dragging he foot pon this matter. You got to be going through all this red tape and grieving at the same time," the man said.
He said the witnesses are ready to give evidence in the matter but it's just the police who are not putting enough effort into the investigation.
He said that when 'Cobra' was first implicated the police said they had tangible evidence against him. "They just guessing all the way," the man said, while pointing out that the eyewitnesses later picked out someone else whom the police had not linked to the incident.
For Boodhoo it is no surprise that he has heard nothing from the police, saying that the police in Guyana pay little attention to details while conducting investigations. "I would hate to know that this turns into another cold case," he said, confessing that he has no confidence in the police to solve this case. He expressed the view that the police are supposed to be doing more to give his family satisfaction and later said that God is in charge of all things and will one day reveal the identity of the killer.
Bholanauth died two days after being shot. He was a patient of the Intensive Care Unit of the Georgetown Hospital.
Based on eyewitness accounts, the businessman was seated alongside the dispatcher when the two men entered. They were acting suspiciously. The dispatcher reportedly inquired whether they were interested in credit for their mobiles, while Bholanauth was occupied on his laptop computer. The men ignored the dispatcher, pushed him aside and approached Bholanauth.
From the accounts, Bholanauth resisted the men when they attempted to take his laptop and a huge gold chain he was wearing and he was shot during the commotion. The men later fled with the valuables in a waiting motor car.
Boohoo told this newspaper that based on what they were told this was a clear robbery and the men were attracted by the gold chain that Bholanauth was wearing. The man said it appeared that the men had been watching the businessman for some time before they struck.
Julie later explained that one of the eyewitnesses kept telling her husband about the chain he was wearing. "It was big. It was an eye-catching something," she said.
She said that some time back there was an attack at the base and as such her husband did not want a repeat. The woman felt that being attacked for a second time was too much for her husband and as such he decided to defend his property and was killed in the process. He was shot seconds after she ended a telephone call with him. He was to leave the base at that moment to go home and eat.
The day before Bholanauth died, Julie recalled that he was desperately trying to tell her something. "He was hooked up to the oxygen so he start pulling down everything so that he could speak and when they realize what was happening, they give him a shot and paralyse him and he never regained consciousness," she said amid tears.
The woman who was overcome with emotion recalled how she walked in on her husband's death. She explained she had a strange dream in which he was telling her that it was a robbery. She said that it was based on this dream that she decided to go to the hospital around 12.35 am on January 27, 2010. When she arrived the doctor told her that he had just died.
Life has changed
For Julie and her two children now aged four and seven, life has changed dramatically. She was forced to quit her job at a city bank as managing a business, a home, children, work and coping with the loss of her husband was too much for her to handle. She told this newspaper that the sudden and tragic death of her husband has taken a toll on her.
She said that for the sake of her children she had to adjust and make the necessary changes which are still a challenge for her, although life will never be the same again.
The younger child she said, does not understand fully what has happened, as he feels his father would one day arrive home on a plane. The elder child she said understands that her father is dead. Asked how she is coping with the loss, Julie said she "has her own way of dealing with it."
Julie has since handed the business over to Boodhoo. She noted that she and her husband built the business together so it was hard to return to the place where he was shot. She said that when she visits the location she would stay on the roadway and after collecting what she came for would drive off.
"My life has changed drastically. I pray and ask for justice," she said. The woman later pleaded with anyone who may have some piece of valuable information, to come forward.
Around the Web