The police have in custody the driver of motor car PGG 751 which struck down pedal cyclist Rabindranauth 'Bull Bai/Ben Sack' Ramlingam at Cottage, Mahaicony, East Coast Demerara on Sunday around 10.25 am.
Ramlingam, 50, of 14 Perseverance, Mahaicony ECD died of a fractured skull and lacerations about the body according to a post-mortem examination performed on his remains yesterday.
According to his wife Kumari Ramlingam she last saw her husband about half an hour before the accident; he was at home making jokes with her mother who is vacating there.
She said, "He picked some pepper fuh mommy take home back and left to go out and about half hour later somebody call me buddy and tell he that how Bull Bai get in accident."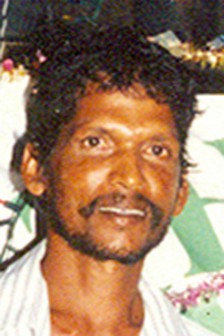 She related that her brother immediately went to the accident scene but Ramlingam was already taken to the Mahaicony Hospital by the driver of the car that hit him down and was receiving treatment for his injuries. She said when they arrived at the hospital her husband was bleeding through his nose and there was a puncture at the back of his head.
He was referred to the Georgetown Public Hospital (GPH) because of the extent of his injuries but the farmer never made it there; he succumbed in the ambulance at Hope Beach ECD and was taken back to the Mahaicony Hospital.
The grieving woman said her husband was a jovial person and never wished ill for anyone and for him to die such a horrific death is unacceptable.
She related to Stabroek News that the driver of the car told her that her husband rode in the pathway of his vehicle but admitted he was speeding. She further added that he said that he did not hit her husband instead he slammed into a lantern post at the corner of the road but she finds that hard to believe because of her husband's injuries.
All the neighbours and relatives praised Ramlingam for his quiet nature. He leaves to mourn his two daughters and wife along with other relatives.
Around the Web