Armed bandits early yesterday morning launched two separate attacks in Cummings Lodge, East Coast Demerara escaping with millions in cash and jewellery but swift work by police and the victims led to the arrest of eight persons at a house in the area and the discovery of an unlicensed gun.
Crime Chief Seelall Persaud yesterday said that two of those arrested have been positively identified as being perpetrators in both attacks. Another man was identified as an accomplice in one of the robberies.
Police said in a press release that they are investigating two armed robberies that occurred and that investigations have led to the arrest of six men and two women and the recovery of an unlicensed .38 revolver with two matching rounds.
According to the police, the first attack occurred around 04:30 hrs when Vivian Rookhum, 31, and his brother Frederick Cheong, 30, were held up in their home at 9th Field, Cummings Lodge. Based on investigations, the release said, they were held up by two men, armed with a handgun and a cutlass, who entered the building through an open door.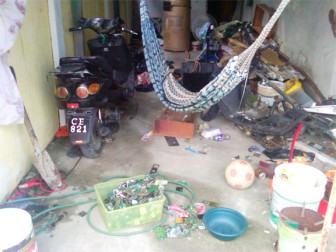 The armed men took away their jewellery, a laptop computer, two cell phones and a bicycle and escaped.
When Stabroek News visited the house, a woman who was just leaving said Cheong would be unable to speak since he was asleep. She could not provide any details on what transpired.
Some 20 minutes after the attack on the brothers, at approximately 04:50 hrs three men launched an attack on businessman Mohamed Khan, 42, who lives at 7th Field, Cummings Lodge. The release said Khan was in his motor lorry when he was confronted by three men, two of whom were armed with a handgun and a cutlass. Khan's brother was also robbed during the ordeal, this newspaper was later told.
Police told this newspaper that from all indications, after leaving the first house the men went to the second house and somewhere along the way picked up an accomplice.
At the second house, the release said, they took away a bag containing US$16,440 and $255,000 before escaping.
"The police responded quickly to the reports received and diligent investigations led to a search on a house at 4th Field, Cummings Lodge, where an unlicensed .38 revolver with two rounds was found and six men and two women arrested," the release said.
At the Khans' residence, the men were in shock over the ordeal and had closed their shop. It was later reopened.
According to 38-year old Mohammed Shaman Khan, his brother Mohammed Shazam Khan and some employees had packed the lorry on Sunday night to travel to Lethem yesterday; they supply food stuff and other articles to the shops located there.
Shaman explained that in the lorry there was a bag with US$17,245 ($3,449,000) and $140,000 to purchase articles for their business from Brazil.
He recalled that Shazam had gone out and started the truck to heat it up, when around 4:50 hrs, he heard him shouting for thief and went to his assistance. "…I saw two man scuffling with he and one of them had a gun."
He added that the men had already grabbed the bag which contained the cash but his brother was holding on to it.
The men wrested the bag from his brother, ran off and dropped it. It was then picked up by the third man. Shaman said the gunman's t-shirt came off and he held on to it and gave chase, but his brother begged to give up because the man was armed. The other bandit left his slippers behind.
He said some of the neighbours who had awakened by then went out and they a formed a vehicle brigade and started to comb the area for the men.
The man who said this is the seventh robbery he had experienced said they heard that some persons were staying at a house in the area and robbing residents. Accompanied by two police patrols they went to the house. As soon as they reached the gate, he said, a pair of slippers just like the one left at the scene.
According to him there were "two girls" in the bottom flat of the house and when the police questioned them they said there were two guys in the upper flat. However, the police found six men in the upper flat.
The man told this newspaper that the eight persons were taken to the Turkeyen Police Station and the house was searched for the stolen items.
A number of intact and dismantled cell phones and illegal drugs were found. The empty bag they had wrested from his brother was recovered behind the fence at the back of the yard. A gun was also discovered "between a pile of wood wrapped in a green t-shirt".
The suspects then revealed that three other accomplices were hiding at another location. It was unclear at press time if police had found the trio.
Unsavoury characters
When Stabroek News visited the house the front and the garage area was littered with items including shoes, clothing, vehicle parts and a box of cellular phone parts.
One resident told this newspaper that for a long time now she had noticed people visiting and leaving the house and that a white car was there regularly.
She said she was familiar with a couple who lived there – a man and his pregnant wife.
The resident said she lost count of the persons who visited the house as they were too many. She said that around Valentine's Day she was tempted to call in the police after she saw young girls dressed in their school uniforms visiting the house.
Residents said that because of the unsavoury-looking characters, they made no attempts to mix with them.
Community awareness
Shaman told this newspaper that neighbours need to look out for each other and be aware of strange persons in their area. He said Cummings Lodge was  always a hideout for persons who committed crimes because of its many streets and short cuts.
He said the Community Policing Group and police patrol the area occasionally but "is like them men does time them, so it don't mek plenty sense".
He noted that yesterday many residents were reluctant to give them information and this ought not to be as it had now been revealed that a gang of thieves was living among them.
The businessman said he had been living in the area for over 20 years and had applied to the police for a firearm licence to protect his business but is yet to get a response. He even went as far as writing to the President for his intervention.
He added that on Sunday night two of the men that are is in custody were involved in a scuffle at the corner before his business place and the two woman who were detained were at a nearby shop as well. He said the men were regular customers at his shop, but he was unaware of their intentions.
The distraught man said the police need to be a bit more active in the area. He also wants the area to be illuminated; there are no street lights.
Shaman was robbed was in January when his business was broken into and 25 gas bottles stolen. (Additional reporting by Lakhram Bhagirat)
Around the Web