Lecturers at the University of Guyana Turkeyen Campus, after being advised by the administration that they will not earn salaries and allowances if the industrial action continues, decided to hold a 'sickout' yesterday.
According to the advisory, which this newspaper has seen, staff members who are actively involved in the sit-in, work to rule and lunch-time protests at the institution will not be paid with effect from February 21.
The advisory revealed that the administration has agreed that staff members on strike cannot earn salaries and allowances and this includes members of staff to whom the time book system applies, as well as those to whom it does not.
Staff members to whom the time book system does not apply, were advised to notify the Personnel Division in writing by noon on February 24 whether they are on strike or not. The advisory warned that if that is not done and they are not on approved leave, they will be regarded as being on strike and deductions will be made from their salaries.
The university added that it does not question the right of staffers to use industrial action as a mechanism to enforce their demands, but it also recognizes its responsibilities to be guided by the regulatory provisions in the Laws of Guyana, hence the decision.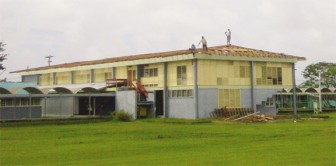 It referred to the Trade Union Recognition Act 1997, Section 2(1) (i) where it states that 'strike' means a cessation of work, a refusal to work, to continue to work or to take up work by workers acting in concert or in accordance with common understanding and includes any concerted interruption of work or slowing down by workers commonly known as a 'sit down strike' or a 'go slow'.
Meanwhile, the University of Guyana Senior Staff Association (UGSSA) and the University of Guyana Workers Union (UGWU) have called for a one-day sickout. The time for this action has not yet been made clear.
While this is being done, the University of Guyana Students Society (UGSS) has opted to stage what is being called 'Occupy UG'. Accord-ing to UGSS President, Duane Edwards, a large cross section of the student body has indicated interest in showing solidarity with the lecturers and demonstrating their disgust at the condition of the campus.
When asked about plans beyond this, Edwards could not provide further information.
Efforts made to contact President and Vice President of the UGSSA, Dr Patsy Francis and Melissa Ifill respectively, were futile.
When Stabroek News visited the campus yesterday, work was ongoing on the roofs of the George Walcott Lecture Theatre and the Small Lecture Theatre. A few students were present at the university.
Around the Web