The creation of a database on fishermen and their activities is crucial to ensure security at sea, Agriculture Minister Dr Leslie Ramsammy said yesterday, while noting that two-thirds of the fishing vessels operating in local waters were unlicensed last year.
"The success and safety of fishing and the various stakeholders depend on the authorities knowing how many persons are engaged directly and indirectly in the industry, and where fishing is done. We need these data, so that, in collaboration with the Coast Guard,MARAD [the Maritime Administration Department] and other stakeholders, we can be able to serve you better, offer more security at sea, and you will be able to receive the benefits that a licensed boat is expected to receive," Ramsammy said during the feature address at fisherfolk convention yesterday at the Guyana International Conference Centre, at Liliendaal.
The convention was organized by the Ministry of Agriculture to interface with fisherfolk, but it was only attended by just about 100 persons, most of whom travelled from Berbice. In addition to a fishermen database, the convention also heard a proposal for a law to make it mandatory for vessels to be equipped with homing devices and radios to aid emergency responses. Perma-nent Secretary in the Ministry of Agriculture George Jervis stated that the convention would be used as consultation for determining measures to be put in place to better the fishing industry. The meeting and others of its kind undertaken countrywide would help in tracking progress continuously and implementing measures as needed to make fishing in Guyana's fishing zone safe.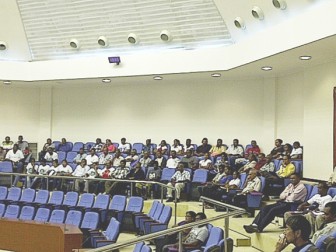 The meeting was organized as authorities move to crackdown on continuing acts of piracy at sea. Recently, a series of pirate attacks in Guyana's fishing zone have led to protests by fishermen over the lack of security at sea. In one recent attack, more than 20 fishermen were beaten and robbed at sea off the Essequibo Coast. There was a recent protest at Mon Repos and another subsequently in front of the Office of the President, resulting in a meeting between the fisherfolk and President Donald Ramotar, who promised to address their concerns.
At the convention yesterday, Ramsammy and Transport Minister Robeson Benn emphasised the need for fishing vessels to be licensed and registered.
Ramsammy, disclosing the Agriculture Ministry's statistics on fishermen, noted the disparity in the number of registered fishing vessels and those currently operating at sea. "On the local front, a boat count of artisanal vessels in the last year revealed that there are 1,234 boats, an increase from the last count in 2005. Some have estimated the count at about 2,000 artisanal vessels operating in our waters. However, of great concern was that only approximately one-third had fishing licenses last year," he said.
Also, Ramsammy lamented a lax approach in the industry to safety and noted that many fishermen do not wear or equip their boats with life jackets. He asked for a commitment of cooperation from the fishermen. Issues related to security do not fall under his ministry's jurisdiction, he said, but assured that he would be a strong advocate and facilitator for fishermen so that adequate measures are put in place for better fishing conditions.
The minister stated that although the convention's primary focus was on maritime safety and security, other challenges pertinent to the development of Guyana's fishing industry were equally important. He pointed out the global environmental changes and said fishermen should always be conscientious of these facts when plying their trade.
Minister Benn echoed most of Ramsammy's sentiments and stressed the creation of a true database to help combat piracy. "One of the intentions is to have a better and more comprehensive database of the persons who are active and who are the main players, particularly when they depart from their clusters, so that we are able to react to issues of maritime safety and security… I hope one of the things we can agree on is that we undertake to provide more information to improve the database," he said.
Coast Guard Lieutenant Adrian McLean, meanwhile, recommended that laws be put in place to make it mandatory for boats to be fitted with homing devices, so that they could be located during times of distress. He said, "In order for us to better support you in the field, we would like for legislation to be drafted to mandate that vessels be equipped with homing devices and radios. This will assist us in the event that your vessel comes into distress for whatever reason," he said.
But during the presentation by Quark Communications representative Brian Yong on the benefits of Global Positioning System (GPS) and other tracking devices, such as drones, many of the fishermen said that the US$200 ($40,000) price tags were too expensive. Yong, however, detailed the benefits of each fisherman having one and noted its importance in ensuring swiftness in receiving aid.
Around the Web