Two days after Guyanese celebrated Mashramani, several streets and canals have not been cleaned and Mayor of Georgetown Hamilton Green, said this can be blamed on the financial constraints of the council which cannot afford to pay its cleaning crews overtime.
Stabroek News yesterday followed the main routes used by the floats and the general public during the annual celebration and found Mayor and City Council workers still in the process of clearing litter.
Speaking with this newspaper, Green said that with the exception of  the canals, Camp Street, Church Street and most of Irving Street and Lamaha Streets have since been cleared.
According to him, this process is usually completed by the following day. However, the council's lack of funds has played a role in hindering the timely cleaning of the streets this year.
"We started, but because of financial difficulty, we are trying to avoid overtime," Green said, further explaining that workers have been on the streets from 7am to 2.30pm every day since February 23.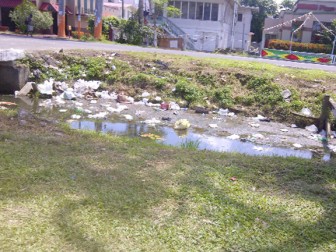 "Every day we have to pull the men from the streets at 2.30pm because we cannot afford to pay overtime… It's a question of money," Green said.
He noted that the work is expected to be completed by tomorrow.