A bandit who robbed a fish vendor yesterday morning of his day's sales at Bell Vue, East Bank Berbice was apprehended following diligent efforts by the victim, an ex-police officer and another man.
Salim Khan, 42, of Friends Village told Stabroek News that the bandit robbed him at knife-point of $15,000 and fled on a bicycle.
He was going after him on his bicycle when a car approached with the ex-cop and another occupant. After learning of the robbery they joined Khan in the chase.
When the bandit saw them he diverted among thick bushes but that did not stop the men from following him.
They eventually caught up with him and after a struggle they managed to "tie him up" and took him to the Sisters Police Station.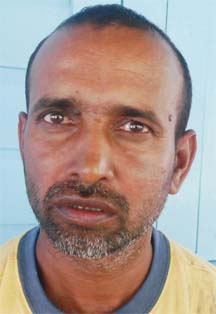 Khan who left home at 7 am to go around the village to sell said the bandit who had his t-shirt pulled over his face, pounced on him as he was passing a bushy area.
He pressed the knife into his back and ordered him to "give me all the money." He said he complied because he did not want the bandit, whom he recognized from the area as someone who would normally purchase fish from him, to hurt him.
Around the Web