A father of two succumbed on Friday at the Georgetown Public Hospital (GPH) Burns Care Unit after being doused with kerosene and set alight by a woman in the presence of his two children on Sunday, February 19 according to his relatives yesterday.
According to initial reports 25-year old Speedboat Operator Anand 'Brother' Persaud was at home in his rented apartment at Bella Dam Pouderoyen, West Bank Demerara with a woman and his two children 3-year old Devi Persaud and 1-year old Ganesh Persaud when around 3 pm neighbours heard the woman screaming that he was on fire.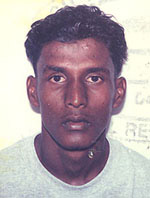 Swift action by the neighbours saw the flames extinguished and the injured man transported to the West Demerara Regional Hospital (WDRH). Persaud initially told investigators that he was about to make tea for his two children when a malfunctioning gas stove exploded resulting in him being set alight.
Owing to the extent of his burns Persaud was transferred to the GPHC where he received treatment until he succumbed.
When Stabroek News visited Persaud's mother Parbattie Persaud at her home in Goed Fortuin WBD yesterday the grieving woman recounted that on the day of the incident she was at home with her family when a relative of the woman accused of setting fire to her son came to her home in a taxi with Persaud's two children.
Parbattie Persaud said, "She bring the two children and dump them here and said 'tek you grandpickney and you son get bun up and in the hospital.'"
Upon hearing that she immediately got dressed and left for the WDRH in the company of her husband and when they arrived there her son was in the process of being taken to GPH for treatment.
She described him as a man who always worked hard and provided for his children.
Persaud said that she was told by her son that he had been coaxed to say he got burnt because of the explosion, but then after that rather matter of factly revealed that he was doused with kerosene and set alight by a woman. This she added was validated by the couple's 3-year old daughter who constantly tells her that her father was set afire by the woman, and it sounded like 'boom.' The child she said is traumatized by the ordeal she witnessed and usually gets up at night and screams hysterically.
All the neighbours and relatives gathered at the Persaud's residence praised the young man and described him as a hardworking and generous person.
The mother said that she is still unable to eat because of the condition she saw her son in and said that he did not deserve to die in that way because he was a very good person.
Persaud told Stabroek News that the woman who allegedly set her son alight was taken into custody by the police and released twice even after she confessed.
A post mortem examination will be performed today to determine the exact cause of death and the family is preparing for a funeral on Tuesday.
He leaves to mourn his two children, parents and other relatives.
Around the Web