Secretary General of the Organisation of American States (OAS) Jose Miguel Insulza yesterday paid a courtesy call on President Donald Ramotar.
According to the Government Information Agency (GINA), during the meeting at the Office of the President, Insulza extended an invitation to Ramotar to participate in the April 14-15 Summit of the Americas in Colombia.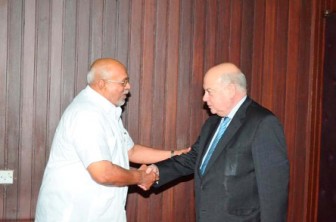 Insulza was meeting with the president following his victory at last year's general elections. "We hope that he can reach his goal of achieving more political understanding of moving the country forward and we are very supportive of that," Insulza was quoted as saying by GINA. Recently, the OAS confirmed its original finding of a mostly smooth process and has recommended reforms to the electoral system following last November's elections.
The body, which mounted a 25-member Electoral Observer Mission (EOM) headed by Jamaican professor Gordon Shirley, recommended a series of reforms to the country's electoral framework and for more equitable access to the media – a sore problem for opposition parties – and to campaign financing.
Insulza said yesterday that he was pleased at Guyana's economic performance and informed Ramotar of the upcoming summit, which heads of state, including US President Barack Obama and Canada's Prime Minister Stephen Harper, are expected to attend.
Several issues, including competitiveness, energy, technology, crime, inequality and climate change will be discussed at the forum, GINA stated.
Meanwhile, GINA reported that Insulza also paid a courtesy call on Home Affairs Minister Clement Rohee at his temporary office at Camp Road and Young Street in Kingston yesterday. Rohee described the presence of the OAS Secretary General as being significant to the country and he expressed hope for continued cordial working relations with the OAS.
Insulza noted that Guyana is a strong democracy, according to GINA, and he said that the OAS is happy with the economic progress the country is making. He also reaffirmed his commitment to continue working with the government in areas of mutual interests such as security.
OAS resident representative Dennis Moses was present at both meetings, GINA stated.
Around the Web