Power to West Demerara is expected to dramatically improve in the coming months with the building of a series of new substations and high powered transmission cables to feed power from Kingston by way of submarine cable across the Demerara River.
This was disclosed by CEO of the Guyana Power and Light (GPL) Bharat Dindyal in an interview with the Stabroek News last week.
"We are building facilities on the West Demerara to link it via transmission line to Kingston so that we will be able to deliver power to West Demerara via transmission lines. So we have the 69 KV cable across the Demerara River from Kingston substation to Vreed en Hoop and we are building a substation in Vreed en Hoop so we could deliver power there and then we are going via overhead transmission line to Edinburgh which is Central West Coast to another substation which will also deliver power there," he said.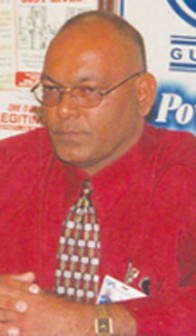 He said currently the company is using a 13.8 KV cable and there are generating facilities at Vreed-en-Hoop and Leonora. "But with the 69 Kv transmission line we will be able to deliver vastly more power than we had the capacity to before," said Dindyal.
Further, he said that there will be additional modernisation of the grid with the linking by fibre-optic cable of all of the power stations and substations.
"In the facilities that we are building now it includes a fibre-optic network. We also building a supervisory control and data acquisition system and to allow the system to receive data from other substations and send control signals we are installing a fibre-optic network," he said.
He said the work on the cable is scheduled to start shortly and noted that the cable is sitting on a barge moored at a wharf in the Demerara River. "The equipment is here and there is some assembly work still going on. By March 4, I am advised that the cable-laying will start," he said.
But turning to Berbice, the GPL CEO said that the situation is still very fragile. "At Canefield we were working on the HFO upgrade of two of the 5 megawatt machines. We completed one and the other one should be completed in six weeks or so. With that we will have 10 megawatts of HFO capacity at Canefield that we could use to improve the situation in Berbice," he said.
He said that because of the lack of capacity coming from Guysuco's Skeldon plant due to the failure of one of the Wartsila units, GPL is now dependent on many small generating units and managing them is difficult sometimes when there are network problems. "But I have been offering them advice and I think that now the situation is improving," he said.
Dindyal said that in 2012 the company is projecting an increase in generation of 5.39 per cent and total generation will go to about 687 gigawatt hours. "In 2013 we are looking to increase further by 5.44 per cent and our total generation would increase to 724 gigawatt hours, 2014 to 769 gigawatt hours, 2015 to 849 gigawatt hours and by 2016 just over 1,000 gigawatt hours," he said.
Theft and vandalism
"We have a major issue in new housing developments particularly in Demerara and Berbice. We have constantly gone and raided these areas looking for illegal connections, looking for tampered meters and all these shenanigans. The problem is I don't think we have broken the culture. I think it's alive and kicking.
People are looking for new and innovative ways of stealing electricity," he said. "Every time we look to introduce new technology to deal with the problem people basically try to match us," he said.
Dindyal pointed out that as regards the prepaid meter, there are con artists installing empty boxes and people are paying $100,000 each for them, thinking that they have prepaid meters in there. "We caught 10 in Parika recently who said that they paid [the sum] to unscrupulous individuals to get those services," he said.
The GPL CEO also said people are making off with the company's property, such as cables, conductors and other paraphernalia. "There is a lot of development taking place in the country and people have to come to us for capital works to expand their network.
We are finding that there are people who pay people to steal our property. People are stealing conductors, they are stealing wires, specifically to do network extension and they are not coming to us for that service," he said.
Around the Web